A WORD FOR TODAY 09 JAN 2019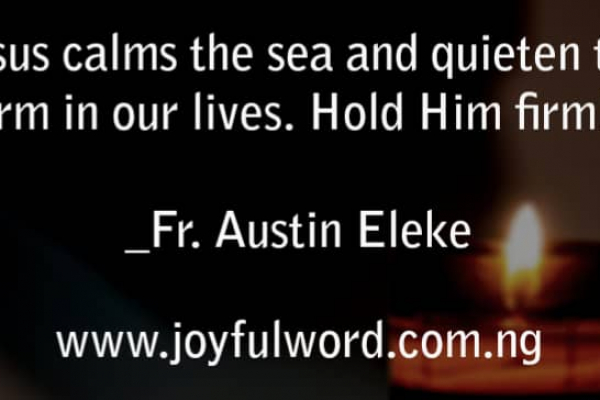 A WORD FOR TODAY
Working is good, but when we work and do not make out time to rest and pray we could 'burn' out quickly. The attitude of Jesus is one that teaches us to always go before the Lord in prayer to recharge our strength to do more good in His honor._
He had a lot on his mind at that time, but when He saw that His disciples were being troubled by the wind in the sea, He walked on the sea and came to their help.
If Jesus is truly abiding and living in us, we will not be afraid at any point in time because He will always be there to help us in our times of trouble and needs. He has the power and authority to calm our troubled sea so that we can sail smoothly.
We may experience turbulence as we sail in the water of our life, but we need to remember always that so long as Jesus is by our side we should not be afraid, but with faith call upon Him to save us when danger comes knocking.
To stay close to Jesus always should be our ultimate goal, because that is the only way we will be saved from the attacks of the evil one. Jesus will never abandon His own, therefore, do not let anything make you stay away from Him.
Good morning dearest one. Smile😊as you do your work ndidi do have a magnificent day. May Jesus come to your aid when you need Him and May He save you. Amen. And May the Almighty God bless you: the Father and the Son and the Holy Spirit. Amen.
1 John 4:11-18/Psalm 72:1-2,10-11,12-13/Mark 6:45-52
*Watch-Word:* Take heart, it is I; have no fear!
Jesus has power to destroy every evil force that may rise against you, therefore hold unto Him and let Him fight your battle