A WORD FOR TODAY 1 FEBRUARY 2020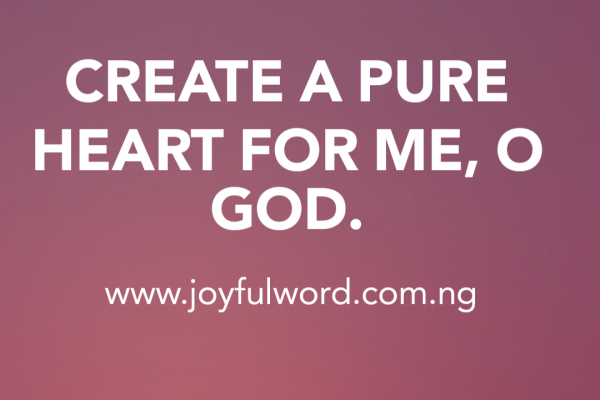 A WORD FOR TODAY
CREATE A PURE HEART FOR ME, O GOD.
The words of the psalmist (Psalm 51) in the responsorial psalm of this day is a prayer we must pray everyday, because God is holy and if we are going to please Him we must love holiness and be pure in heart.
Sin is an offence against God, by any thought, word, deed or omission against the law of God. When we sin, we fall short of God's glory and our heart is filled with darkness. Sin seperates us from God's friendship and we also offend our neighbour.
It is not a good thing to commit sin, however, what you do after you have fallen is very important. To some, they may give up in their struggle to be holy and decide not to make effort anymore, but to others, they will be sorry for their sins, rise up from where they have fallen, learn from their mistakes, reconcile with God and man and make a resolve to keep moving forward in the project of holiness. Where do you belong?
We see in the first reading of today how David repented of the sin he committed against God and his neighbour and he received mercy from the Lord. Every sin has a punishment attached to it, but when we repent with a contrite heart and confess our sins, God forgives us, but we must do penance given to us after confession and absolution by the priest and others we decide to do so as to show God that we are truly contrite.
If the Lord should mark our iniquity, non of us will stand before Him.(Psalm 130:3). We need to pray and make effort to be pure in heart and to do good always. Denying that you are not a sinner will not do you any good, but acknowledging in all honesty that you have sinned will open the door of God's mercy for you.
Jesus is merciful and He can save you from the power of sin and its corresponding habits. Sin can rage around you like a storm in the sea as the disciples experienced in the gospel reading of today, but when they called upon Him, He rebuked the storm and everything became calm again. Pray to God for the grace to be holy, then cooperate with His grace and you will be Holy again. No matter how you have fallen before, you can begin anew. God's love and mercy is supreme above the power of sin and death. God can heal your heart which is wounded by sin and He will help you to rise and shine out again for Him.
Good morning dearest one. Smile😊as you do your work and do have blessed New Month of February. May Jesus be merciful to you, create a new heart in you and may He restore the joy of our salvation. Amen. *And may the Almighty God bless you: the Father and the Son and the Holy Spirit. Amen.
Meditation: 2 Samuel 12:1-7,10-17/Psalm 51:12-17/Mark 4:35-41
Watch-Word: Do not cast me away from your presence, O Lord.
Acknowledgement of sin with a contrite heart will help you to find mercy and forgiveness from the Lord.
(Saturday of the Third Week in the Ordinary Time, Year II)