A WORD FOR TODAY 10 JAN 2019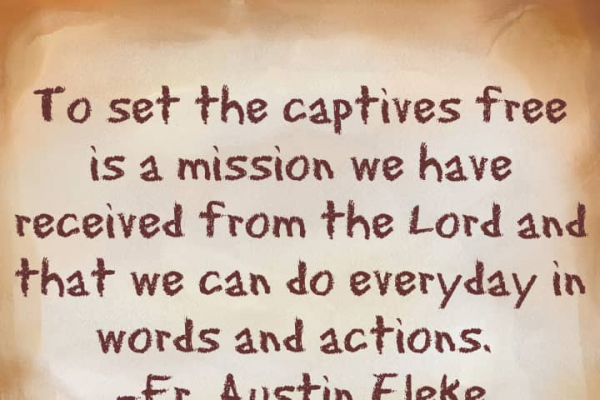 A WORD FOR TODAY
The mission that was given to our lord Jesus Christ was a very important one and when he came to the earth he focused on his mission and got it executed perfectly well.
The Spirit of the Lord is upon Him and He was anointed to proclaim the Good News to the poor, proclaim liberty to the captives, recovering of sight to the blind, set at liberty those who are oppressed and to proclaim the acceptable year of the Lord.
We share in this mission of Jesus by virtue of our baptism and we must go out like Christ not to tie people in bondage, but to set them free through our words and actions.
This mission we must carry out in love because God is love and He who is in God must strive to love as He loved. If we do not love our brothers and sisters who see everyday there is no way we can profess true and authentic love to God whom we do not see. Infact, God is in your brothers and sisters and to treat them well is to do same to God and if you do them bad, you do it to God also.
Our responsibility is to proclaim God's love everywhere and by our actions people will come to believe in the one who has called us to become messengers of His love on earth.
Good morning dearest one. Smile😊as you do your work and do have a peaceful day. May Jesus continue to make His name known in the world through us. Amen. And May the Almighty God bless you: the Father and the Son and the Holy Spirit. Amen.
*Meditation:* 1 John 4:19-5:4/Psalm 72:1-2,14,15,17/Mark 4:14-22
*Watch-Word:* The Spirit of the Lord is upon me!
To set the captives free is a mission we have received from the Lord and that we can do everyday in words and actions just as Jesus did in His time on earth.