A WORD FOR TODAY 10 MARCH 2019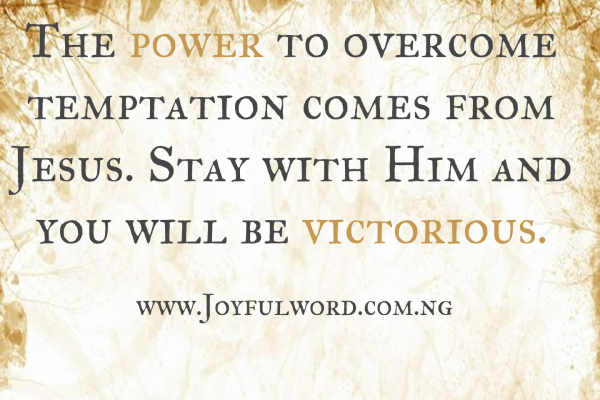 A WORD FOR TODAY
On this first Sunday of Lent we are presented with the temptation account of Jesus in the wilderness. He was tempted by the devil but in the end He became victorious.
Temptations and difficulties are bound to come our way in life and sometimes in stages or phases, but what we do when they come is actually what really matters. For the Isrealites, when they had their challenges in Egypt, they cried to the Lord who came to their aid and set them free. The same could happen to us if we have faith in God
We must strive everyday to place our trust in the Lord and in that way we will have the strength and power to overcome our challenges and temptations when they come. We must believe in Him in our hearts and confess Him with our lips and we will be saved.
When we feed our heart with God's word we will have the power to defeat the devil when he comes to distract us from staying focused to our God given mission and purpose in this life. God can never allow us to be tempted beyond our strength or capacity but we must not forget to stay at alert always so that we will not be brought down by the devil.
Staying away from God exposes us to the enemy and he could hit us and bring us down, but when we are solidly in God we have the power to overcome. You will never be put to shame if you believe in Him and if the challenges are much remember to call upon the Lord and He will come to your aid and save you.
Jesus is a model for us today because He was tempted, but He resisted the devil and never gave him the space to penetrate Him. We must learn from Him to stay strong and continue to conquer whatever comes out way in His name and by His power.
Good morning dearest one. Smile😊as you begin this day and do have a splendid Sunday. May Jesus help you overcome that temptation that is knocking at your door. Amen. *And May the Almighty God bless you: the Father and the Son and the Holy Spirit. Amen.
*Meditation:* Deuterenomy 26:4-10/Psalm 91:1-2,10-15/Romans 10:8-13/Luke 4:1-13
*Watch-Word:* Man does not live by bread alone.
*Temptations must come, but the power to overcome it comes from God. Put your trust in Jesus and He will help you overcome.*_