A WORD FOR TODAY 10 MARCH 2020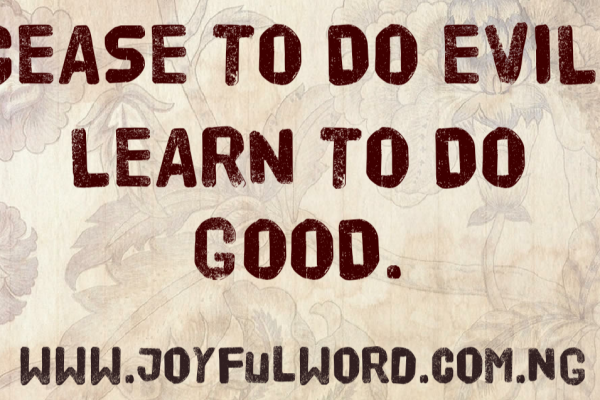 A WORD FOR TODAY
CEASE TO DO EVIL, LEARN TO DO GOOD
When you perform an act over and over again, whether good or bad, it will come to be part of you and almost a habit. Sometimes it will get to the point where you will be associated with such act.
As Christians, we are mandated by our Lord Jesus Christ to shine out as the light always and if we continue to perform actions that symbolize light, we will come to be known as children of the light.
The prophet Isaiah reminds us in the first reading of today of what the Lord wants us to do everyday. We must cease to do evil and learn to do good. We must not let evil become a habit in us, instead goodness should be our Watch-Word everyday._
When goodness becomes your habit, you will love justice and stand against everything that represents oppression and wickedness. You will speak for the defenceless and you will help the weak to become strong. You will teach others by your example and you will practise what you preach.
We must not be like the Scribes and the Pharisees whom Jesus condemned their hypocrisy in the gospel reading of today. They teach one thing and they do another. We must learn to grow in integrity and avoid living a fake life that involves double standards._
This is a season to wash ourselves clean from sin and to reconcile with God so that our light and goodness will shine out again. If you are willing and obedient, God will help you grow in holiness and you will no longer be a slave to sin.
Good morning dearest one. Smile😊as you do your work and do have a lovely day. May God's grace help you to cultivate the habit of doing good always. Amen. And may the Almighty God bless you: the Father and the Son and the Holy Spirit. Amen.
Meditation: Isaiah 1:10,16-20/Psalm 50:8-9,16-17,21-23/Matthew 23:1-12
Watch-Word: Come now, let us reason together, says the Lord.
Your light shines well when you perform a good act and it goes off when you do evil.
(Tuesday of the Second Week of Lent, Day 12)