A WORD FOR TODAY 12 MARCH 2019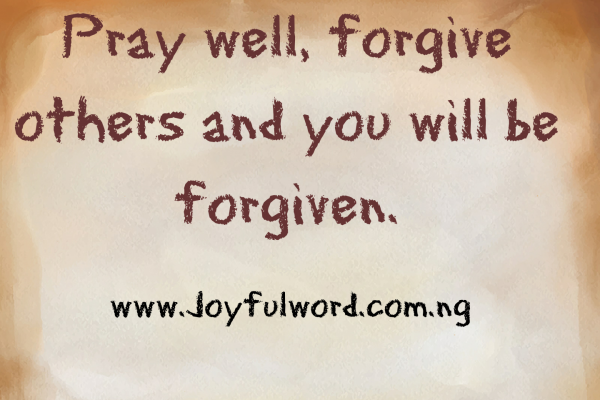 A WORD FOR TODAY
Prayer means more than just opening your mouth to say something. If your heart and mind is not in what you say, it could just be mere babbling.
The disciples of Jesus were taught in the gospel reading of today how to pray. It is a prayer that has everything from praise, to petition, to intercession and so on. If we pray like Jesus taught His disciples and believe in what we pray with faith, it will work for us.*_
Prayer works when it is prayed in accordance with God's will. In this season of lent we are encouraged to pray more. However, if we do not try to pray in a way that will be pleasing to the Lord, our prayer will not be answered and it will amount to wasted effort._
You cannot pray well when you bear grudges in your heart and refuse to forgive those who have offended you, because God Himself forgives you when you ask for forgiveness and that should be the same with you if you want you prayers to be answered.*_
Our prayer should be simple and it should flow out of love for God and for our neighbour. We pray, not just for ourselves, but also for others who may be in need of our intercession. God is ready to answer our prayers if we pray well. Therefore, as you pray today, let your heart be in what you say and be ready to forgive so that you will be forgiven.
Good morning dearest one. Smile😊as you do your work and do have a peaceful day. May the words of your mouth and the meditations of your heart be acceptable in the sight of the Lord. Amen. And May the Almighty God bless you: the Father and the Son and the Holy Spirit. Amen.
*Meditation:* Isaiah 55:10-11/Psalm 33:4-7,16-19/Matthew 6:7-15
*Watch-Word:* The Lord rescues the just in all their distress!
Never stop praying because there is power in prayer. Let your prayer meeting God's standard and it will be answered.*_