A WORD FOR TODAY 12 OCTOBER 2020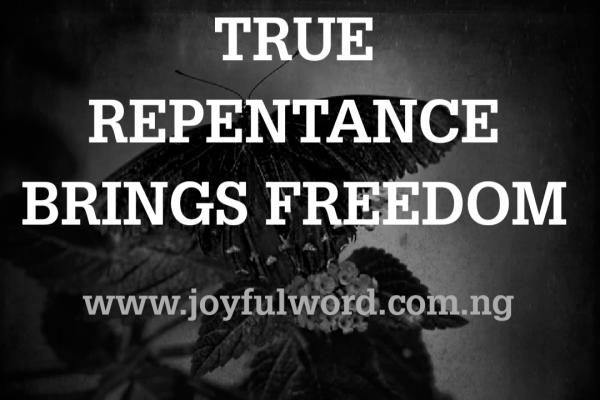 A WORD FOR TODAY
TRUE REPENTANCE BRINGS FREEDOM
"For freedom Christ has set us free; stand fast therefore, and do not submit again to a yoke of slavery."(Galatians 5:1)_
We will continue to be grateful to God for what He has done for us in Christ Jesus. He set us free from the dominion of darkness and slavery of sin and has brought us into the kingdom of light where we are to shine as His children.
The sacrifice of Jesus for us on the cross is one that has saved us from eternal death and set us free from being slaves to the devil. We must always bear this in mind as we journey in life so that we do not go back to being slaves for the evil one.
Saint Paul admonishes us in the first reading of today to stand fast so as not to submit again to the yoke of slavery. Jesus has paid the supreme price for our redemption, therefore, we must strive to live a holy and unblemished life so as not to go back into being in captivity.
In this life, we must stay at alert and keep doing good. We must hold unto God firmly and we will not go astray, however, if we fall, we must rise, repent of our sins and seek the face of God. It is only by truly repenting of our sins that we shall be free.
Since Jesus has set us free, we must strive to always be free and not give the devil the opportunity to hold us in captivity again through our failings. We must rise from where we have fallen and hearken to the voice of God. We must truly repent of our sins if we want to be free and serve the Lord well.
If we truly love Jesus, we must stay away from the things that will make us become slaves to the devil. We must change our ways, live a holy life and we will be worthy vessels for the Lord.
Good morning dearest one. Smile😊as you do your work and do have a good day. May Jesus help you to stay strong in your faith till the end. Amen. And may the Almighty God bless you: the Father and the Son and the Holy Spirit. Amen.
Meditation: Galatians 4:22-24,26-27,31-5:1/Psalm 113:1-7/Luke 11:29-32
Watch-Word: Today, harden not your hearts, but listen to the voice of the Lord.
For us to enjoy freedom as children of God, we must love God and stay away from evil.
(Monday of the Twenty eight week in the ordinary time, year II)