A WORD FOR TODAY 15 FEB 2019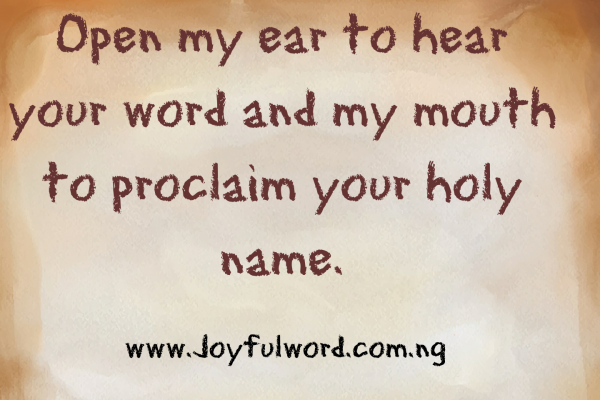 A WORD FOR TODAY
When we fail to listen to God's Word and act according to His instructions, we will definitely fall into the trap of the devil who is trying hard everyday to make sure that we are not in good terms with God.
The commandments of God are not meant to punish us, but to help us to live well so as to continue to enjoy the friendship of Him who made us in His own image and likeness. If we do not obey God's instruction, we will give the devil the chance to torment our lives and make us remain under his bondage.
Temptations to fall into sin comes to us on a daily basis, but we must strive always to resist the devil and the occasions of sin so as to please the Lord and do His will.
We must come to the Lord like the deaf and dumb man who was brought to Him in the gospel reading of today. He could not talk and could not speak, but when Jesus touched him, his power of speech and hearing was restored and he proclaimed the name of the Lord.
There is nothing we gain by desiring what we should not desire, it will only make us to fall deeper into sin and we lose our friendship with God and begin to hide from Him.
God is ready to forgive us our sins and restore us again to Himself if only we can humble ourselves, acknowledge our failings before Him and ask Him for pardon. He will wash us clean and give us the strength and confidence to continue to praise His name.
Meditate on the word of God day and night and you will not have time to listen to the voice of the devil that will only serve to distract you from staying focused on Him who has called you to serve Him.
Good morning dearest one. Smile😊 as you do your work and do have a great day. May God's love for you move you to hear His word and obey it always. Amen. And May the Almighty God bless you: the Father and the Son and the Holy Spirit. Amen.
*Meditation:* Genesis 3:1-8/Psalm 32:1-2,5-7/Mark 7:31-37
*Watch-Word:* "Ephphatha," that is, "Be Opened"
To listen to God's instructions and to act according to them is the best thing that can happen to us. Obey God's word and be happy in life.