A WORD FOR TODAY 15 JANUARY 2020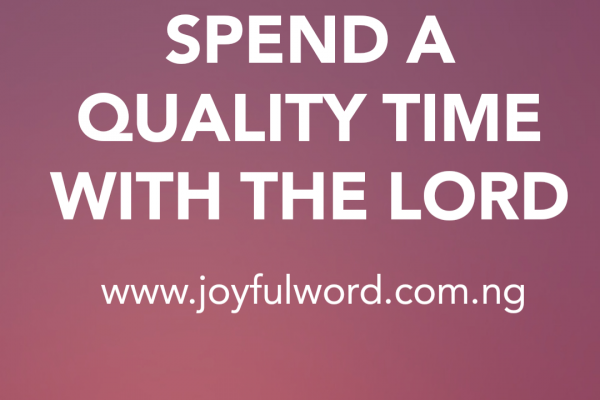 A WORD FOR TODAY
SPEND A QUALITY TIME WITH THE LORD
It is a reality of life that we tend to spend more time with those we love and care for, than those we do not know. The essence of spending this time is to learn from them, share in their joy and pain and also draw strength from their wealth of experience.
In the first reading of today, the boy Samuel was spending time with the Lord in the temple when the Lord called Him. He was a novice in prophetic matters, but when he followed the guide of Eli, he was able to hear the voice of the Lord and he had the disposition to start his journey as a prophet.
We derive joy when we stay or hang out with friends we love and it strengthens our bonds and gives us a new spark to life. We must however, know that a quality and quiet time spent with the Lord in prayer is of much and higher value and nothing can compare with it in this life.
Jesus in the gospel reading performed a lot of miracles. He healed the sick and cast out demons. He was very active in the day doing the work that He has come to do, but in the early hours of the morning, He will go to a lonely place where He will be alone with the Father and pray. He did not allow His work among the people to stop Him from being with His Father so as to renew His strength.
He spends quality time with the Father and from the presence of His Father He will come to meet the people and touch their lives mightily. The man or woman who spends quality time with God in prayers will always come out refreshed and re-energized to do great things for God.
We must love silence and try to grow in the spirituality of being calm before the Lord. It will help us to hear God's voice when He calls and speaks to us. A quality time spent with the Lord is never a wasted time, but a time that will bring us blessings in abundance. It will also give us the strength to do great and good things for God among the people.
Good morning dearest one. Smile😊as you do your work and do have a lovely day. May the time you spend with God bring you uncountable blessings in all areas of your life. Amen. And may the Almighty God bless you: the Father and the Son and the Holy Spirit. Amen.
Meditation: 1 Samuel 3:1-10,19-20/Psalm 40:2,5,7-10/Mark 1:29-39
Watch-Word: Speak Lord, for your servant is listening.
Draw closer to Jesus, spend some good times with Him and He will guide you and help you to do exploits in His name.
(Wednesday of the first week of the ordinary time, Year II)