A WORD FOR TODAY 15 MARCH 2019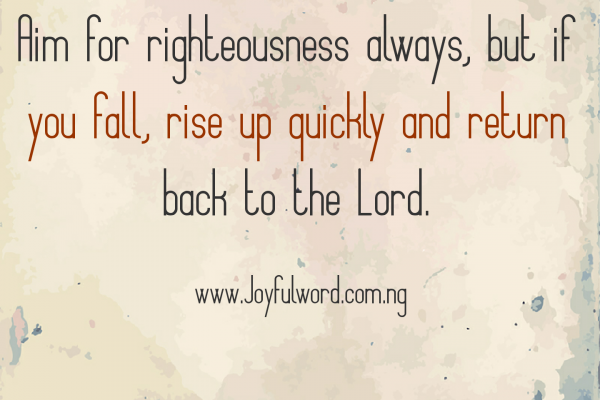 A WORD FOR TODAY
The God we serve is not wicked, He is rich in mercy and gives us opportunity of repentance from time to time. If we accept His invitation, we will change and will have eternal life.
The call to repentance is what we hear everyday and it is expected that when we hear it we must strive as much as we can to make amends and become a new person in heart and mind.
If God should mark our iniquities non of us will stand and we must always seek ways to return to Him from where we have fallen so that we may find life. To refuse to accept God's invitation is to make the choice not to find life.
We must strive to remain steadfast in righteousness and if we have fallen into sin, we should rise and rerurn to the Lord who is ready to forgive us and make us to live. To live in sin is death, but to live in righteousness is life. We must do what the commandments of the Lord teaches and we will have life in abundance.
One of the ways we can show we have repented is by forgiving those who have offended us. This time and season of lent is a moment we can settle our differences with people and reconcile with them. This will help us to be able to offer a sacrifice that will be acceptable to the Lord.
Good morning dearest one. Smile😊 as you do your work and do have a wonderful day. May your effort to return to the Lord bear fruits for you in abundance. Amen. And May the Almighty God bless you: the Father and the Son and the Holy Spirit. Amen.
Meditation: Ezekiel 18:21-28/Psalm 130:1-4,5-8/Matthew 5:20-26
Watch-Word: If you, O Lord, should Mark iniquities, Lord, who could stand.
Aim for righteousness everyday and continue to do good. If you fall, rise up, repent of your sins and seek the face of God and He will help you to be righteous again.