A WORD FOR TODAY 16 JANUARY 2020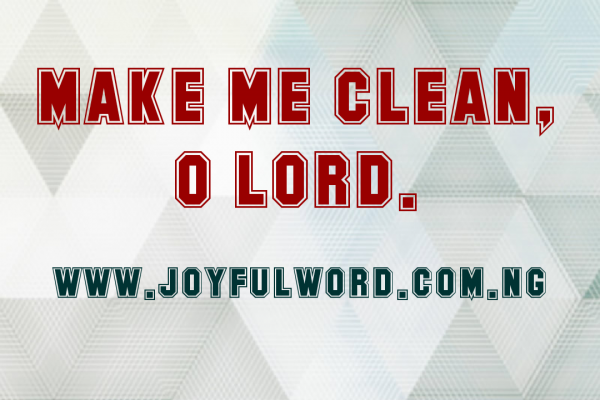 A WORD FOR TODAY
MAKE ME CLEAN O LORD
The effect of sin and its attending consequence is what we see on a daily basis in the course of our sojourn here on earth. Bonds are broken, friendship are destroyed and even the relationship we are supposed to enjoy with God is cut short. We become sad and weak and the guilt of our falling weighs down on our conscience.
The story of the first reading of today is one that shows us what sin can cause in the life of an individual or a community. The people of Israel went into battle against the Philistines, but could not defeat them, because they sinned against the Lord and that cost them a lot, not just that they lost so many fighters, but the ark of God was also captured.*_
They went into the battle unclean and as a result of that they were defeated. We cannot win a battle against the forces of evil with a heart full of evil and wickedness. Darkness cannot defeat darkness, but light surely dispels darkness. The secret of victory over the forces of evil is purity of heart and righteous living.
The leper in the gospel reading of today knew he was unclean and needed to be helped and saved and he came to Jesus and begged Him to make him clean. Jesus was moved with pity in His heart and He cleansed Him and instructed him to go and show himself to the priest and offer a sacrifice for declaration of cleansing.
We have a merciful God who can help us to be clean and save us from the power of sin and death. Jesus is ready to help us if we are ready to return to Him. Why let sin hold you down from your victory when you have a friend in Jesus. Take a step towards Him and cry for help, because He will definitely help you.
God and see the priest today in the confessional and reconcile with your God and by so doing the Lord will go with you into the battle field and you will come back with victory, because holiness will make you rise and glow always. God is ready if you are ready. Now is the time to rise and return to the Lord for His mercy endures forever.
Good morning dearest one. Smile😊as you do your work and do have a merciful day. May God's mercy abide in your heart and may He help you overcome every sinful habit. Amen. And may the Almighty God bless you: the Father and the Son and the Holy Spirit. Amen.
Meditation: 1 Samuel 4:1-11/Psalm 44:10-11,14-15,24-25/Mark 1:40-45
Watch-Word: Redeem us, O Lord, with your merciful love.
Do not go into a fight when you are not ready, prepare yourself first, then let the Lord go with you and He will give you victory.
(Thursday of the first week Ordinary Time, Year II)