A WORD FOR TODAY 17 OCTOBER 2020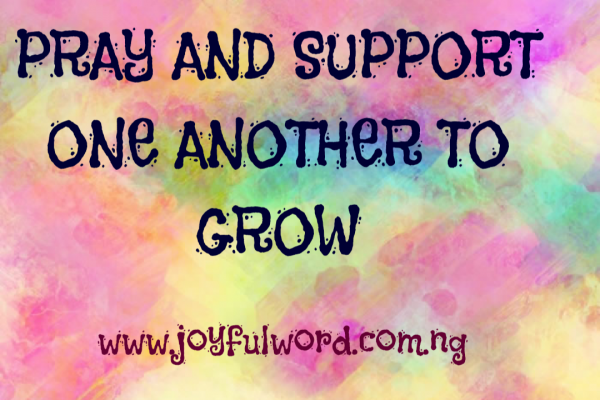 ghghg
A WORD FOR TODAY
PRAY AND SUPPORT ONE ANOTHER TO GROW
_"For this reason, because I have heard of your faith in the Lord Jesus and your love toward all the saints, I do not cease to give thanks for you, remembering you in my prayers"(Ephesians 1:15-16)_
If there is something we must cherish and uphold in this life, it is to support one another and help each other to become strong in serving God even when we do not come from the same family, town, state or nation. We may not have been born by the same father, but we have the same heavenly Father.
_Saint Paul gives us an example in the first reading of today of what it truly means to support each other. He not only encouraged the Ephesian community whose faith is growing to keep doing well, he also assured them of His prayers._
_*No man is an Island, we need each other as we journey in life. Words of encouragement are very necessary and also support and prayers to help us stay strong as we journey through life.*_
_We must pray for one another that God will help us to be good, kind, holy and peaceful. We must also encourage each other and pray that we may be successful in the things we do, especially in our effort to know God and to do His will._
_*We have a mission to proclaim and acknowledge Jesus before men here on earth. Therefore, never let anything distract you. Do your best to believe in God and to teach others to do the same. Help each other to rise and do not be an obstacle to anyone.*_
When you know the greatness of the riches we shall enjoy in heaven, you will have no other concern, but to do your best to live a good life here on earth proclaiming the name of Jesus and also encouraging others to do the same. Keep praying for one another and support each other to grow and God will reward you.
_*Today we celebrate the memorial of saint Ignatius of Antioch.(Bishop and Marytr). He was a disciple of saint John the evangelist. He encouraged the faithful with his holy life and zeal for God and he continued to profess his faith even unto death and he became an inspiration to many Christians in his time and beyond. Let us learn from him to love God and be ready to die for him and encourage others with our life style to do the same.*_
_Good morning dearest one. Smile😊as you do your work and do have a beautiful day. May your prayers and support to others bring you eternal reward in the end. *And may the Almighty God bless you: the Father and the Son and the Holy Spirit. Amen.*_
*Meditation:* Ephesians 1:15-23/Psalm 8:2-7/Luke 12:8-12
*Watch-Word:* You have given your Son power over the works of your hand.
*You can never lose when you support and pray for others to be better. God will bless you*
(Saturday of the Twenty eight week in the ordinary time, year II. Memorial of St. Ignatius of Antioch.)