A WORD FOR TODAY 18 AUGUST 2019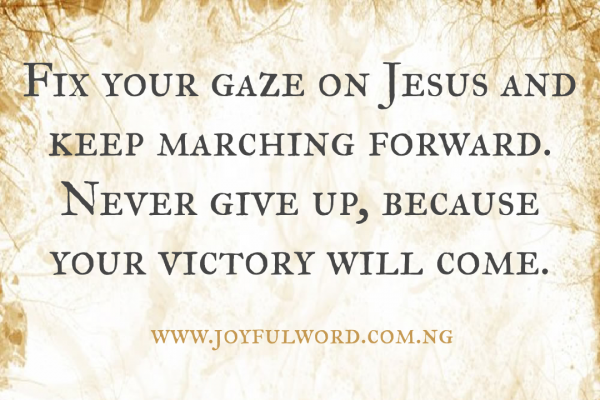 A WORD FOR TODAY
To identify with God is not just milk and butter, but sometimes pain, rejection and the cross. Jeremiah experienced it in the hands of the people who plotted to destroy him and tarnished his image before the king, but God came to his aid and His life was spared.
When we make the decision to follow Jesus we must be ready to accept the joy and pain that comes with it. However, we must be rest assured that God does not abandon those who put their trust in Him in their times of persecutions, but gives them grace to overcome and become victorious.
To put our trust in the Lord is not something that comes easy, because different things in this life are seeking for our attention and to possess our heart. We must not yield to the temptation, but fix our gaze on Jesus and focus on the reward we shall receive in the end and that will help us to persevere.
The way of Christ is the way of the cross and our life and discipleship will not make any sense if we fail to accept Him, deny ourselves, take up our cross and follow Him. We must never give up, because our perseverance will win us the crown. We will experience difficulties sometimes, but we will overcome if we remain in Christ and do what He commands.
The strength to overcome the challenges we may experience in the course of living out our faith comes from Jesus and this is why we must fix our gaze on Him because He has gone through this path and He knows how to help us to overcome as He did overcome. We must draw our strength from Him, because He will never fail. We must give up our old ways of life which is characterised by sin and accept the new life He offers.
People will hate us and reject us, because of Christ. People will treat us badly because of Him. They will call us all kinds of name, smear our integrity and even plot to destroy us. This should not make us to fear and compromise our faith. We must never give up, instead we should stand our ground and continue to follow Him to the point of death. He will deliver us and He will reward us bountifully.
You must love Jesus above family, work, business and everyother thing in this life. Your loyalty to Him should come first above other things of this life. You must be ready to lay down your life for His sake and in so doing you will be preparing yourself very well for the reward of eternal life.
Good morning dearest one. Smile😊as you begin this day and do have a splendid Sunday. May Jesus fight for you and deliver you from the hands of those who seek to destroy you. Amen. And may the Almighty God bless you: the Father and the Son and the Holy Spirit. Amen.
Meditation: Jeremiah 38:4-6,8-10/Psalm 40:2-4,18/Hebrews 12:1-4/Luke 12:49-53
Watch-Word: Keep running steadily in the race we have started.
Following Jesus comes at a cost and only those who are ready to pay the price will win the prize of eternal life.