A WORD FOR TODAY 18 JAN 2019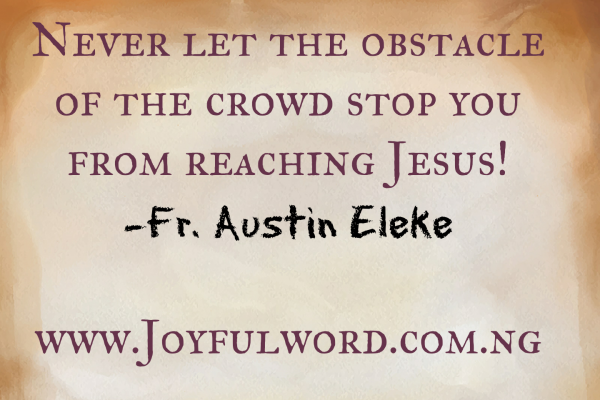 A WORD FOR TODAY
Wherever God is, good things happen and if we come before Him we will be able to receive blessings which He always gives to those who put their faith and trust in Him.
Today we are presented with the story of the paralytic who received mercy and healing from Jesus on account of the faith of the men who brought the man to Him.
Our faith could meet obstacles, but we must always strive to keep moving forward until we reach our goal as the four men did. They never let the obstacle of the crowd stop them from reaching Jesus, they followed an alternative route and they got to their destination.
They sacrificed their time to bring a wounded man to Jesus and the man received both spiritual and physical healing. what are you waiting for to start leading people to Christ.
We must not let situations of life paralyse us when we have our Lord Jesus to help us. Come to Him and help others find Him too and we will all be healed.
The physically and spiritually challenged are always around us. We must show them care and make sure that we help them find the help they need to get better and that is leading them to get medical attention and also to find Jesus respectively. Jesus has the power to forgive sins and also to heal, let us hold unto Him with faith.
Good morning dearest one. Smile😊as you do your work and do have a miraculous day. May you receive healing of soul and body and may others in need of it find Christ through you. Amen. And May the Almighty God bless you: the Father and the Son and the Holy Spirit. Amen.
*Meditation:* Hebrews 4:1-5,11/Psalm 78:3,4,6-8/Mark 2:1-2
*Watch-Word:* I say to you, Rise, take up your pallet and go home!
Christian charity demands that we help others to find the help they need in Christ. Be the channel through which those in need of Christ will reach Him.