A WORD FOR TODAY 19 AUGUST 2019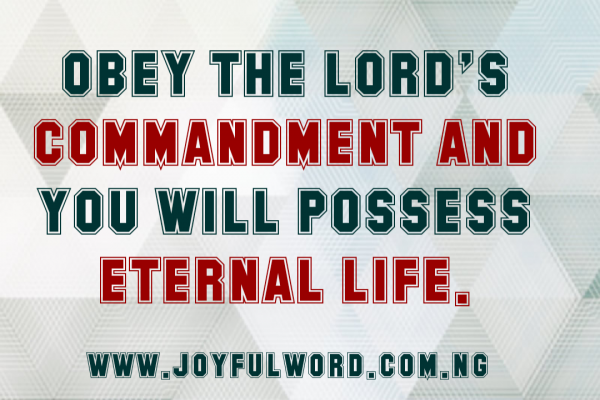 A WORD FOR TODAY
God's mercy is shown in how He treated the people of Israel in the first reading of today when they disobeyed Him and served baal. Their action made them to go into captivity, but God did not allow them to be destroyed, therefore in His mercy He raised up Judges for them who rescued them from the hands of those who plundered them.
Every act of disobedience is sinful before God and we must aim for faithfulness instead. We must strive to worship God alone and reject any thing that will drive us into living in sin thereby disobeying God's commandment. God is faithful and since we belong to Him, we must be faithful too. We must aim for holiness of life which will help us to possess eternal life on the last day.
For us to be able to obey God's commandments we must be ready to let go of our selfish desires and attachments to the material things of this life. We must submit to God and let His will be done in our life. If we wish to be perfect we must be ready to lay down our life as a ransom for others. We must sell all that we possess and give to the poor, this means that we must be charitable, but it is not just about doing charity, we must also live a good and upright life.
The man who came to Jesus in the gospel reading of today had a good intent and wanted to possess eternal life, but when Jesus told him what it will cost for him to have that, he walked away sad because he was a man of great wealth. Having the desire to do good is not just enough, you must do the good if you intend to be happy and to please God.
We must not let what we possess by way of wealth and earthly treasures stop us from possessing eternal life by using it to do good to the poor ones among us. We must detach ourselves from everything that will not help us grow spiritually and do God's will and in that way we wil be able to obey the Lord and eternal life will be our portion on the last day.
Good morning dearest one. Smile😊as you do your work and do have a blessed new week. May Jesus help you to remain faithful in your commitment to follow Him and may the good things you do with your possession merit you eternal life. Amen. And may the Almighty God bless you: the Father and the Son and the Holy Spirit. Amen.
Meditation: Judges 2:11-19/Psalm 106:34-37,39-40,43-44/Matthew 19:16-22
Watch-Word: Go and sell what you own and give the money to the poor.
Every act of goodness comes at a cost, if you are not willing to make the sacrifice, it will be difficult for you to do the good that will help you possess eternal life.