A WORD FOR TODAY 19TH SEPTEMBER 2019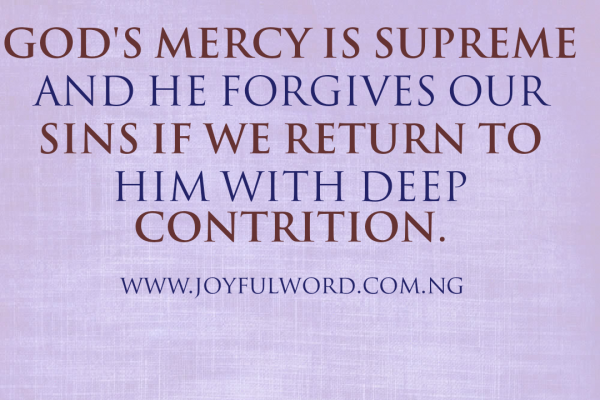 A WORD FOR TODAY
YOUR SINS ARE FORGIVEN
Jesus' reaction to the deed of the sinful woman in the gospel reading was that of mercy and love, because the woman was in need of mercy and she knew that only Jesus could give it to her and in coming to Jesus she forgot about every other thing focused on Him alone and in the end she went home a new person.
She showed so much love by washing the feet of Jesus with her tears, wiped it with her hair, kissed and anointed it with a very costly ointment as a sign of her repentance and need for Jesus who alone can show her mercy, and in the end she received mercy from Jesus and her sins was forgiven.
Jesus came to seek and save those who are lost in sin and if we draw closer to Him like this woman did, we will find mercy and forgiveness because He is ever ready to welcome us back. Our sins may be grave, but God's mercy and love is supreme. All we need is to acknowledge before Him that we have sinned and then make sincere and honest effort to repent of our sins and we shall find God's forgiveness waiting for us when we return.
Simon the pharisee who invited Jesus to his house was not happy that Jesus allowed the sinner to touch Him and as a result of his attitude he could not receive anything from the Lord. He was full of himself and felt he has no need for God's mercy. This cost him the love and forgiveness he would have received from Jesus. We must always be conscious of who we are and in humility we should always approach the Lord as sinful people in order to receive mercy and forgiveness from Him.
God is ready to forgive us our sins no matter how enormous they are, if we are ready to show deep contrition and desire to become new people in attitude and behaviour. We must return back to Him and confess our sins in humility and we shall find forgiveness and mercy. Wait no more, detest your sinful life, rise up from where you have fallen and come back to Jesus who is waiting for you to wash you clean and sanctify you.
We have a mission from God to use the gifts he has given to us to serve Him and in doing that we must always be ready to set good examples to those who look up to us as saint Paul instructed Timothy in the first reading of today. We must conduct our affairs with honour, love and purity and in that way we will be a shining light in the community.
Good morning dearest one. Smile😊as you do your work and do have a wonderful day. May God's mercy and forgiveness come to you as you return back to Him. Amen. And may the Almighty God bless you: the Father and the Son and the Holy Spirit. Amen.
Meditation: 1 Timothy 4:12-16/Psalm 111:7-10/Luke 7:36-50
Watch-Word: Come to me, all who labour and are heavy laden and I will give you rest.
Return back to Jesus today with true contrition in your heart and you will find His love, mercy and forgiveness waiting for you.
(Thursday of the 24th week in the Ordinary Time, Year 1)