A WORD FOR TODAY 2 NOVEMBER 2019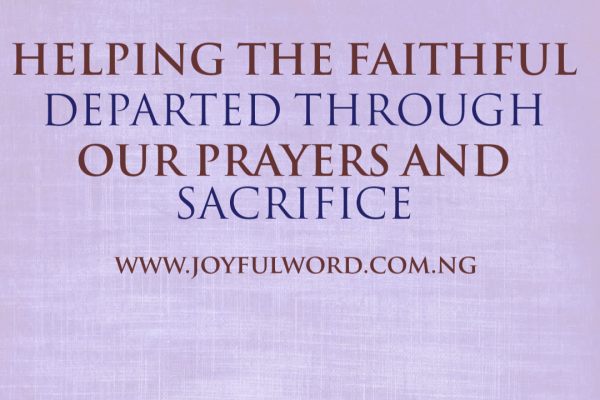 A WORD FOR TODAY
HELPING THE FAITHFUL DEPARTED THROUGH OUR PRAYERS AND SACRIFICE
Today the Universal Church celebrates the commemoration of all the faithful departed (All Souls). This is a day set aside in the Church to pray for the dead and to offer sacrifices and penance for the souls in purgatory so that through the merits of our prayers they may come to enter into the beatific vision of heaven.
Yesterday we celebrated the Solemnity of all saints. We rejoiced with the holy men and women who are in heaven (The Triumphant Church) We asked them to intercede for us because they are in God's presence and behold His glory. Today we the members of the Church here on earth (The Pilgrim Church) are praying for our brothers and sisters who are yet to enter into heaven because of some imperfections that were not atoned for before their death, but are in a place of purification called purgatory (The Suffering Church) They cannot help themselves, but depend on our prayers, good deeds and sacrifices of penance that will be offered to God on their behalf so that they could be made to come to heaven someday to see the face of God whom they believed in while here on earth.
According to the Catechism of the Catholic Church, " All who die in God's grace and friendship, but still imperfectly purified, are indeed assured of their eternal salvation; but after death they undergo purification, so as to achieve the holiness necessary to enter the joy of heaven. The Church gives the name Purgatory to this final purification of the elect, which is entirely different from the punishment of the damned. (CCC 1030-1031)
Our hope is in the resurrection of the dead, because Jesus by dying on the cross destroyed our death and by rising from the dead He restored our life and as such He want us to be with Him on the last day. As He tells us in the gospel reading of today, that He has come to do the will of the Father and that God's will is that nothing that was given to Him will be lost, but that He will raise it up on the last day.*_
The souls of the virtuous are in God's hands as the book of Widom writes and no torment will ever touch them. In the eyes of the foolish they seemed to have died..., but they are at peace in God's hand. The souls we pray for today are all the faithful departed. They believed in God and lived for Him, but because of some weaknesses and imperfections not paid for before their death, they are now in purgatory. Our prayers will help to shorten their stay and hasten their entrance into heaven.
If we live for Christ here on earth, we shall also be with Him in heaven. This is God's will for us and He expects us to always bear this in mind as we journey through life. This will help us to live well and to do the things that will make us to die in the state of grace and go straight into heaven at our point of death. The dead should never be forgotten, because we are connected to them in one way or the other and this is why the Church sets aside this day in her liturgical life to remember them and to pray for them. The greatest prayer we can offer for them is the sacrifice of the mass so that God will grant them eternal rest and his perpetual light will shine on them.
The celebration of today calls for sober reflection among us who are still living. We must resolve to live a life of the beatitude so that when we die we shall be admitted into the kingdom of heaven and we shall see God as He is. Now is the time to make amends, forgive others, show mercy, draw closer to God, love others and be good. If we live well here on earth, we shall die well and if we die well, we shall live well in God's presence in His kingdom.
Good morning dearest one. Smile😊as you do your work and do have a wonderful weekend. May Jesus through our sacrifices today help the souls in purgatory to enter into heaven and may He help us to live well for Him in this life. Amen. And may the Almighty God bless you: the Father and the Son and the Holy Spirit. Amen.
Meditation: Wisdom 3:1-9/Psalm 23:1-6/Romans 5:5-11/John 6:37-40
Watch-Word: Indeed for your faithful, Lord, life is changed not ended.
Eternal rest grant unto them, O Lord, and let perpetual light shine upon them. May the souls of all the faithful departed through the mercy of God rest in peace. Amen.