A WORD FOR TODAY 20 FEBRUARY 2020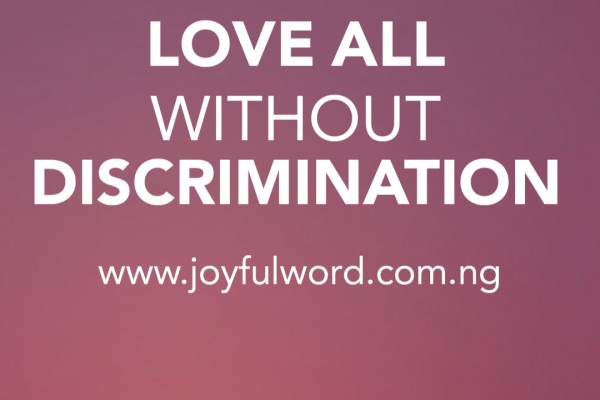 A WORD FOR TODAY
LOVE ALL WITHOUT DISCRIMINATION
A profession of love to God that does not practically show itself in helping the needy and upholding the dignity of the human person, is simply a farce and should never be practised by anyone who truly claims to be a disciple of Jesus.
If we claim to love God, then we must love all without discrimination, because God created all in His own image and likeness, both white and black, tall and short, rich and poor and so on. We must never discriminate or be partial in our dealings with people.*_
Saint James in the first reading of today admonishes us not to be partial in our dealings with people. We must show the same love and respect to both the rich and the poor as they come to us. We must not focus our attention on the rich because of their wealth and neglect the poor or focus on the poor and neglect the rich also. Remember that life is not all about money, but about the goodness of your heart and how well you can stand unblemished before God.
It is disheartening to see the poor treated shabbily and without respect in our gatherings either in the Church or in the secular society, simply because they have no money to contribute to our events. We must not forget that Jesus came for them and died for them too. We must treat them with love, respect and utmost dignity, because God loves them in a special way.
Therefore, if you claim to know who Jesus is as the Son of God as recorded in the gospel reading of today, you must definitely love all without discrimination and you must show no partiality in attending to people, because we are all equal in the eyes of God. Love all with the same love that God has shown to you and you will be a good friend to Jesus.
Never look down on anybody, because life can change and the one you looked down upon because he is poor, could become your boss and salvation tomorrow. Be wise and treat people with respect and love, not because of what they have, but because of who they are, they are primarily God's children.
Good morning dearest one. Smile😊 as you do your work and do have a joyful day. May Jesus give you the grace to love all without discrimination or partiality. Amen. And may the Almighty God bless you: the Father and the Son and the Holy Spirit. Amen.
Meditation: James 2:1-9/Psalm 34:2-7/Mark 8:27-33
Watch-Word: The lowly one called, and the Lord heard him.
Everyone is important in the eyes of God. Treat people with love and respect.*_
(Thursday of the Sixth week in the Ordinary Time, Year II)