A WORD FOR TODAY 20 JANUARY 2020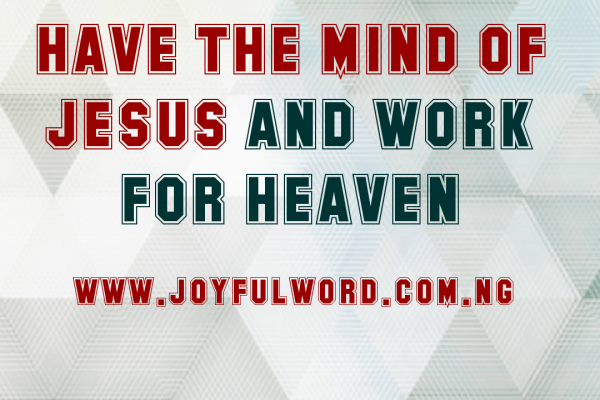 A WORD FOR TODAY
HAVE THE MIND OF JESUS AND WORK FOR HEAVEN
Today we celebrate the feast of Blessed Cyprain Michael Iwene Tansi (1903-1964). He is the only known Nigerian Bleseed in the liturgical Calendar and we continue to pray that one day He will be canonized a saint in the Church.
Blessed Tansi was born in Aguleri and after his educational training which included the philosophical and theological training at saint Paul's seminary Igbariam, he was ordained a priest in 1937 by bishop Charles Heerey and was sent to work at Umudioka region.
He devoted his life in praying, teaching, catechizing and helping others to find God and to know Him. He was a man of deep piety and reverence for God. He is always ready to put the interest and welfare of others above his own good and he was willing to die for his faith._
The first reading of today from saint Paul's letter to the Philippians admonishes us to have the mind of Christ and work not just for our own good, but for the good of others. We must follow the example of Jesus in humility and obedience to the Father and continue to do good here on earth so that we will make heaven on the last day.
We must work for heaven, but for us to make heaven like Blessed Tansi and the rest of the saints, we must empty ourselves and live a life worthy of our calling as God's children. We must be willing to die for others and through our words and actions show them the way that leads to life.
Heaven is a treasure we must work for through our work and activities here on earth. To find heaven we must be ready to let go of something. You must 'sell' all that you have in order to buy it as we have recorded in the gospel reading. Like Blessed Tansi, if we let go of the things of this life and focus on the things of heaven, we will be able to live well here on earth, die well and then live with God in heaven in the end.
Good morning dearest one. Smile😊as you do your work and do have a blessed New Week. May your effort to serve the Lord never be in vain and may heaven be your reward. Amen. And may the Almighty God bless you: the Father and the Son and the Holy Spirit. Amen.
Meditation: Philippians 2:1-11/Isaiah 12:2-6/Matthew 13:44-46
Watch-Word: The kingdom of heaven is like a treasure hidden in a field.
Sainthood is possible, but you must work for it, by being like Jesus at all times.
(Monday of the Second week in the Ordinary Time, Year II)