A WORD FOR TODAY 20 JULY 2019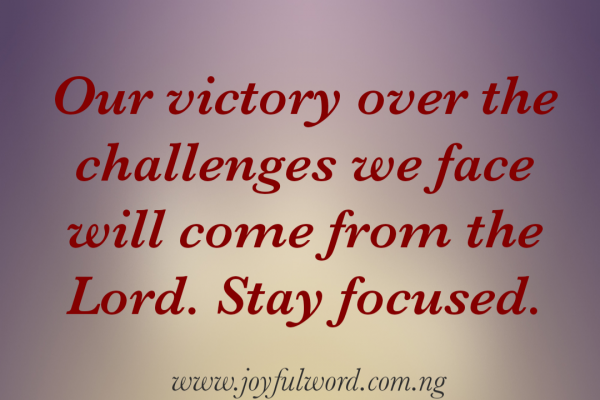 A WORD FOR TODAY
Every situation and challenge we experience in life is bound to come to an end someday. God's time is the best and when He comes to save us and restore us, nothing can hold Him back. The people of Israel in Egypt might have felt that there is no hope for them, but when God heard their cry for help He sent them a helper and they were restored and set free from the bondage of Egypt.
No matter what you may be passing through at this moment, no matter the pain, persecution and agony, no matter the sickness, worry and anxiety, no matter the financial difficulty and other challenges of life, do not give up, but put your trust in the Lord and call upon His name and you will find the help you need.
Every problem in life has an expiry date, therefore, all we need to do when turbulence of life comes is to be still and hope in God. He alone can change our situation and He alone can set us free. He will not allow us to be destroyed by the forces that are fighting to destroy us. When the Lord will deliver us it will seem as if we are dreaming, therefore, never give up, but put your whole trust in the Lord.
Jesus shows us how to handle persecution when it comes in the course of our work. He was doing a lot of good for the people, but the Pharisees were not happy with Him and they made plot to destroy Him. He stayed calm, withdrew from the crowd, but was focused and never allowed the people to make Him give up because of their rejection and persecution. He continued to do the work He has come to do without fear.
As children of God we are bound to experience persecution from time to time, but we must put our trust in the Father as Jesus did and He will come to our aid. He will never abandon us, but will help us with the grace to overcome and become victorious.
Our Lord Jesus Christ through His suffering and death became the name that brought hope to the Gentiles. We must hope in Him always because His name will give us victory over the difficulty we are passing through. If we abide in Him, we shall also become channels through which people will find the help they need and come to believe in Him also. Fear not, trust in God always and He will give you victory in the end.
Good morning dearest one. Smile😊 as you do your work and do have a magnificent weekend. May Jesus be with you and may He help you to overcome the challenges you are facing at the moment. Amen. And may the Almighty God bless you: the Father and the Son and the Holy Spirit. Amen.
Meditation: Exodus 12:37-42/Psalm 136:1,23-24,10-13,15/Matthew 12:14-21
Watch-Word: In His name will the Gentiles hope.
With God, victory is assured over all our challenges. Hold unto Him, be patient and keep marching forward for our help will come from Him.