A WORD FOR TODAY 21 DECEMBER 2019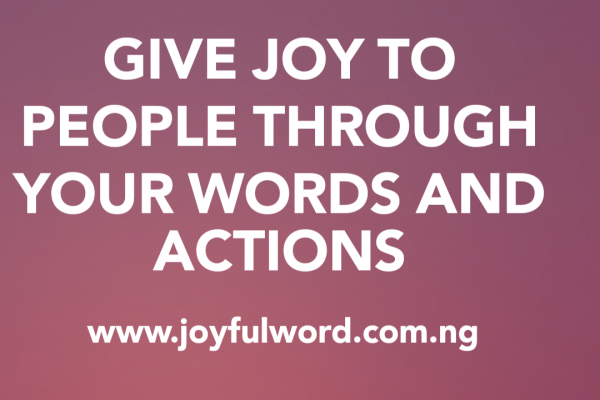 A WORD FOR TODAY
GIVE JOY TO PEOPLE THROUGH YOUR WORDS AND ACTION
Love is a beautiful thing, and when you are a giver or beneficiary of it, you will definitely testify to it. The greatest of love has been shown to us by God when He made us in His own image and likeness. He also sent His Son our Lord Jesus Christ to come and die for us on the cross of Calvary in order to redeem us, and truly there is no act of love greater than this.
True love involves giving or doing something for the good of the other. When the love of God is in your heart it will move you to do something that will radiate joy in the heart of the person who encounters or experience it. True love moves you to leap upon the mountains like a gazelle to go and see the one you truly love and do something that will make him or her feel happy. True love is indeed sacrificial.*_
It is this love of God that is in the heart of the Blessed Virgin Mary that moved her to go and visit Elizabeth her cousin when she heard from the Angel that she was with a child. It was a visitation of love, a visitation of glory, a visitation of blessing, because as soon as Elizabeth heard the voice of her greeting, the child in her womb leaped for joy and she was filled with the Holy Spirit. Mary's presence brought joy to Elizabeth's home and she also helped her a great deal until she gave birth. As Mary was visiting Elizabeth, Jesus who is in her womb was also visiting John the Baptist who was in the womb of Elizabeth.
What you say and do to people in life will show whether you love and have good intentions for them or you are a manipulator who wants to take advantage of them. We must speak out of love and we must also act out of love and in this way we shall be like Jesus who came to show us what true love is, by laying down His life as a ransom for us. Words and actions of true love brings joy, healing, serenity, peace and satisfaction in the heart of both the giver and the receiver.
Every true and sacrificial love must come at a cost. The Blessed Virgin Mary has to sacrifice her comfort in order to go and help Elizabeth. She chose to share the joy in her heart with another, and this is what it means to truly love. We must be ready to share with others in this season and always what God has given to us as gifts. The quantity of what you share does not matter, but the quality and heart with which you give what you give. A little time you spend to help others especially those who will never pay you back, will put a smile on their face and it will count as righteousness for you before God and your reward will come in due time.
What does your word and action do to those who encounter you? Does it give them joy or sadness, inspire them or make them look downcast and disappointed? We must let God dwell in our heart so that His love will move us like our Mother Mary to share our time, talent and treasure with others and give them joy from the joy we have received from God. When true love is shared, true love is multiplied.
Good morning dearest one. Smile😊as you do your work and do have a splendid weekend. May God's love for you, move you to love others as He has loved you and may you be willing to give them joy through your words and actions. Amen. *And may the Almighty God bless you: the Father and the Son and the Holy Spirit. Amen.
meditation: Song of Solomon 2:8-14/Psalm 33:2-3,11-12, 20-21/Luke 1:39-45
Watch-Word: Blessed are you among women, and blessed is the fruit of your womb!
The quality of what you give by words and actions matters more than the quantity. Let your visitation bring joy and not sadness.
(Saturday of the Third Week of Advent, Year A)