A WORD FOR TODAY 21 JANUARY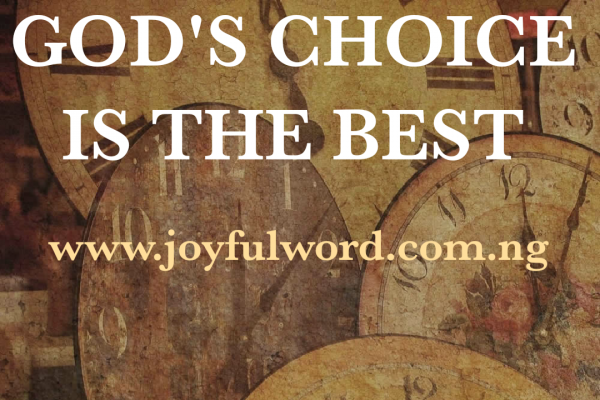 A WORD FOR TODAY
GOD'S CHOICE IS THE BEST
When we are given opportunity to make a choice as humans, sometimes and almost all the times we make a choice based on outward appearance and emotions. This creates a problem for us because sometimes it may not be the best of the choice and it eventually makes us sad. Appearance truly deceives, because what you think you are seeing, may not truly be what you see.
This is different when it comes to God. He does not make a choice based on human appearance, He does not see as man sees, but looks on the heart. Whatever choice He makes will always be the best because He knows each of us and what we can do.
In the first reading of today, the prophet Samuel was sent to go to the house of Jesse and anoint a king whom the Lord has chosen from among his sons in place of Saul. He thought by human appearance that God has chosen the ones he saw, because they were well built and strong, but only to be told by the Lord that the chosen one is the least who is in the field shepherding the flock of his father. No one thought it will be David, but he was God's choice and he was the best.
We must learn from this experience to always let God be involved in the decisions we make and in that way we will not make mistake but take decisions that will be just and pleasing to the Lord. We must learn to choose the best hands and brains for different positions of authority and do away with choice based on sentiments and emotional feelings of sympathy.
It is a problem in our society when we see people take up positions they are not qualified for just because the person incharge wants to appease some people and in this way we have wallowed in confusion and less impact is made in alleviating the problems we face in different sectors of our society.
We must learn from God to make the right choice always and more importantly to make our hearts to be right and not just package our outward appearance to attract praise from the people, but on the inside we are not ok. You can make people see what you want them to see, but only God knows who you truly are on the inside and He alone can make a choice of who is the best. God has chosen you, strive to be the best for him in your own place of work.
Today we celebrate the memorial of saint Agnes (Virgin and Martyr) She was filled with the love of God from a very tender age and was ready and willing to die for the sake of Christ. Let us learn from her to love God and be ready to die for Him as His Son died for us.
Good morning dearest one. Smile😊as you do your work and do have a peaceful day. May God choose you to work for him and may you be the best for Him always. Amen. And may the Almighty God bless you: the Father and the Son and the Holy Spirit. Amen.
Meditation: 1 Samuel 16:1-13/Psalm 89:20-22,27-28/Mark 2:23-28
Watch-Word: And the Lord said, Arise, anoint him, for this is he.
When God makes a choice, you have to accept it and cooperate with the person and you will bring glory to His name.
(Tuesday of the Second week in the Ordinary Time, Year II)