A WORD FOR TODAY 22 JAN 2019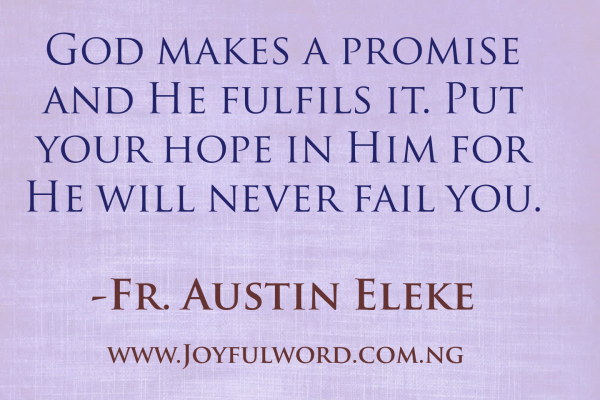 A WORD FOR TODAY
When you do what is right you not only make yourself happy and proud, but more importantly you bring glory and honour to God who have called you to be His ambassador.
God is not a man that will make a promise and fail, instead, He keeps His covenant ever in mind and fulfils His promise. He is taking note of the sacrifices your are making for His namesake and He must surely give you your reward in due time.
Therefore, never be tired of doing good, but at all times and in all places keep doing that which will honour Him and also bring joy in the lives of those who come in contact with you.
There is no need for you to worry about tomorrow, for your tomorrow is assured in Christ. He keeps His word ever in mind and what He has kept for you will be for you. All we need to do is to remain steadfast and committed in our rendering service to Him through the good works we do here on earth.
Never stop doing good in God's name or get tired of praising His name, for the Lord is taking note of every good you do and the reward will surely come to you at the appointed time.
Good morning dearest one. Smile😊as you do your work and do have a splendid day. May the blessings of the Lord destined for you come to you as you devote yourself to His service. Amen. And May the Almighty God bless you: the Father and the Son and the Holy Spirit. Amen.
*Meditation:* Hebrews 6:10-20/Psalm 111:1-2,4-5,9,10/Mark 2:23-28
*Watch-Word:* Surely I will bless you and multiply you!
We say so much and do so little, but God makes a promise and He fulfils it. Put your hope in Him for He will never fail you.