A WORD FOR TODAY 23 MAY 2020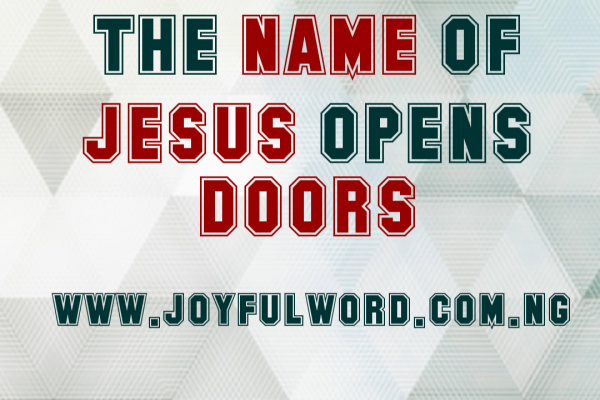 A WORD FOR TODAY
THE NAME OF JESUS OPENS DOORS
"In that day you will ask in my name; and I do not say to you that I shall pray the Father for you; for the Father himself loves you, because you have loved me and have believed that I came from the Father." (John 16:26-27)
There are times you need to make a request from someone, but because you are not close with the person, you will begin to make effort to find out who knows someone that knows the person so that through their contact and recommendation you may be able to see him or her.
However, when it comes to God we do not need someone to help us access Him, because He has given us His Son Our Lord Jesus Christ as a mediator. If we love Jesus, the Father will love us and whatever we ask the Father in His name, He will grant us.
This simply means that Jesus is the way to the Father and His name opens doors of salvation, blessings, favours, healing, restoration, deliverance upliftment, mercy, love, promotion and peace.
In Jesus we have a friend who will stand in the gap between us and the Father and this is what He achieved by coming to die and shed His blood for us at Calvary. He showed us God's love for us through His suffering and death and He knows what we need at all times and He can speak to the Father on our behalf, but He is telling us to have confidence to ask the Father whatever we want, because He loves us and will do for us what will bring us joy. Therefore, hold unto Him firmly and let His name speak for you in your times of need and difficulty.
If we pray and we do not receive, it means we have not prayed well. To pray well is to pray in accordance with God's will and whatever we ask the Father in the name of Jesus that is in accord with His will must definitely be granted. We must ask the Holy Spirit to help us to love Jesus and to stay close to the Father always so that our joy will be full as we follow the way of God.
The name of Jesus will speak for you and His name opens doors. He will obtain for you the blessings you seek. You only need to put your trust in Him and obey His commandments which is summed up in love of God and love of neighbour._
Good morning dearest one. Smile😊as you do your work and do have a peaceful weekend. May God grant you the prayers you have offered in the name of His Son our Lord Jesus Christ. Amen. And may the Almighty God bless you: the Father and the Son and the Holy Spirit. Amen.
Meditation: Acts 18:23-28/Psalm 47:2-3,8-10/John 16:23-28
Watch-Word: If you ask anything of the Father, He will give to you in my name.
To pray is good, but to pray well is the best. Therefore, pray in the name of Jesus, but do not pray selfishly, but with total submission to the will of God and your prayers will be answered.
(Saturday of the Sixth week of Easter. Cycle A.)