A WORD FOR TODAY 24 JAN 2019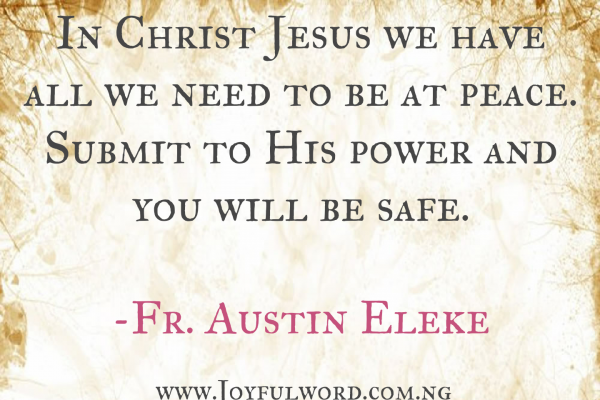 A WORD FOR TODAY
Our God is able to do all things and as the first reading of today states, "Jesus is able for all time to save those who draw near to God through Him, since He lives always to make intercession for them"
Our faith in Christ should be confidently expressed at all times because the Scripture has given many examples of who He is and what He can do.
Jesus offered one single sacrifice of Himself on the cross for the salvation of the world and anyone who by faith connects to what He did shall be saved.
In all honesty, He who has Christ as His personal Lord and Saviour has everything, because in Him we move, we live and have our being. Even the demons know this and they will not want us to believe but instill fear in our hearts so as to go after other gods that give us nothing, but perpetual bondage.
Jesus is holy, Jesus is blameless, Jesus is unstained, Jesus is exalted above the heavens, Jesus has the power to heal and set you free as the Son of God. All you need is to place your trust in Him and everything will be well again and He will take care of you at all times.
Today we celebrate the memorial of saint Francis de Sales the patron saint of writers and journalists. He taught us that holiness is not reserved for monks and hermits alone, but everyone can attain a devout and spiritual life no matter your position in the society.
Good morning dearest one. Smile😊and do have a wonderful day. May Jesus be there always to help you and deliver you from the hands of the evil one. Amen. *And May the Almighty God bless you: the Father and the Son and the Holy Spirit. Amen.
*Meditation:* Hebrews 7:25-8:6/Psalm 40:7-10,17/Mark 3:7-12
*Watch-Word:* See, I have come, Lord, to do your will.
In Christ Jesus we have all we need to be at peace, therefore, let Him control you and you will be safe.#I declare for Jesus!