A WORD FOR TODAY 25 JAN 2019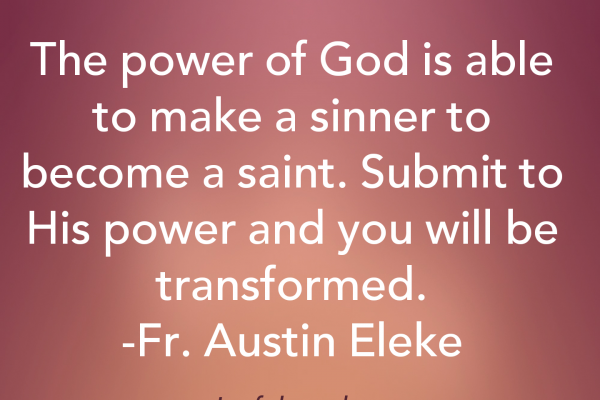 A WORD FOR TODAY
Today we Celebrate the feast of the conversion of Saint Paul. He was an apostle to the gentiles. A man who before his conversion was far from Christ, but after the encounter on his way to Damascus, became a vessel of conversion for so many souls._
The conversion of Saint Paul teaches us something about God and His power. It is never the intention of God that anyone should perish in sin, instead, He is looking out everyday calling us to repentance.*_
Our sin may be grave and many, but when we encounter Jesus, He will wash us clean and help us to begin anew, because His grace and mercy is great and it endures forever.
God calls us to repentance everyday because He has a mission and task for us to accomplish. We must leave our old ways of ife behind and accept His invitation so that we will be able to go out into the whole world and proclaim the Good News for the conversion of sinners.*_
There is no need to look back again when we have given our life to Christ. It should be forward ever and backward never. Saint Paul worked very hard after His conversion to do only the will of God and He remained steadfast until his death._
Let us learn from him to keep doing good and living a good life in the name of Christ and never look back, so that we will be able to receive the reward of eternal life at the end of time.

*Meditation:* Acts 22:3-16/Psalm 117:1,2/Mark 16:15-18
*Watch-Word:* Go into all the world and proclaim the Gospel!
The power of God is able to make a sinner to become a saint. Submit to His power, His light will shine upon you and you will be able to see again.#Touch me Oh Lord!