A WORD FOR TODAY 25 OCTOBER 2020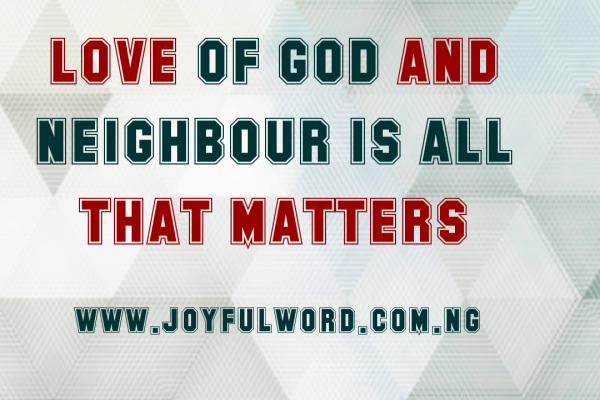 A WORD FOR TODAY
LOVE OF GOD AND NEIGHBOUR IS ALL THAT MATTERS
"And he said to him, "You shall love the Lord your God with all your heart, and with all your soul, and with all your mind. This is the great and first commandment. And a second is like it, You shall love your neighbor as yourself.(Matthew 22:37-39)_
Imagine a world without love, we will be killing ourselves and the wickedness and hatred in the world will be such that no one will survive and we will all go into extinction.
The *#EndSars* legitimate agitations, subsequent lootings and destruction of public and private establishments by hoodlums and discovery of covid 19 palliatives stored in various warehouses in different states in Nigeria which the people are now taking home to attend to their needs of food is simply as a result of no true love. Where there is true love, there will be no corruption, injustice, oppression, marginalisation, hatred, wickedness, hunger, greed, selfishness and insincerity on the part of the leaders and the led which has contributed tremendously to what we are facing presently. You do not expect the led to be good where the leaders are not good, both the leaders and the led have roles to play if our nation will be well.
This is not what the Lord wants and He did not create us to hate and be wicked but to love Him and to extend this love we have for Him to our neighbour. This is the only way we can fulfill the law, because the whole of our commandment is summed up in love of God and love of our neighbour.
True love is not just something you say, but something you do. Every true and authentic love that is professed, must definitely have a practical expression, otherwise, it will just be mere hypocrisy and the attitude of playing to the gallery._
The first reading of today admonishes us to show love to strangers and be kind to orphans and widows and all those who are poor. The strangers, orphans and widows are people without protection and God defends them. (Psalm 68:5 God is the father of the orphans and defender of widows). When we do good to them, we are actually doing it to God and our reward will surely come, but if you oppress them, be rest assured that God will hear their cry and come to their aid. (Read Deuteronomy 24:17-22)
_Jesus in the gospel reading tells us that the love of God is the greatest of the commandment. However, love of God is practically shown in the love of our neighbour. Therefore, to show God that you love Him, you must love your neighbour whom you see everyday._
_You canmot claim to love God when someone around you goes hungry, naked, thirsty, broken, depressed and frustrated, when a little share from what you possess could have made a great difference in the person's life. *(1John 4:7-21 "God is love. Whoever lives in love, lives in God, and God in him(16.....We love because He first loved us. If anyone says I love God, yet hates his brother or sister, he is a liar. For anyone who does not love his brother or sister, whom he has seen, cannot love God, whom he has not seen.)*_
If you want to know what true love is, then you must hear what *1 John 3:16-18* says, *"This is how we know what love is: Jesus Christ laid down His life for us. And we ought to lay down our lives for our brothers and sisters. If anyone has material possessions and sees his brother in need, but has no pity on him, how can the love of God be in him. Dear children, let us not love with words or tongue, but with actions and in truth".
_Drop the rhethorics and pretence and begin to love as Christ has loved us and you will win God's heart and that of the people also and when you are no more, people will miss you and those your generousity, kindness and goodness have touched and changed their lives will definitely beg God to welcome you to paradise and they will cry and miss you. Love of God is the greatest of the commandments, but you must love your neighbour as you love yourself so as to truly show God that you love Him. Unconditional love, sacrificial love, and love without strings attached are the best, it hurts, but the gains are exceptional and unlimited.
Good morning dearest one. Smile😊as you begin your day and do have a wonderful and lovely Sunday. May God help you to love as He has loved you. Amen. And may the Almighty God bless you: The Father and the Son and the Holy Spirit. Amen.
Meditation: Exodus 22:21-27/Psalm 18:2-4,47-51/1 Thessalonians 1:1:5-10/Matthew 22:34-40
Watch-Word: If a man loves me, he will keep my words.
Love is the greatest gift God has given us. Make sure you love more and hate less. More love and zero hate.
(Thirtieth Sunday of the Year. Cycle A.)