A WORD FOR TODAY 26 AUGUST 2019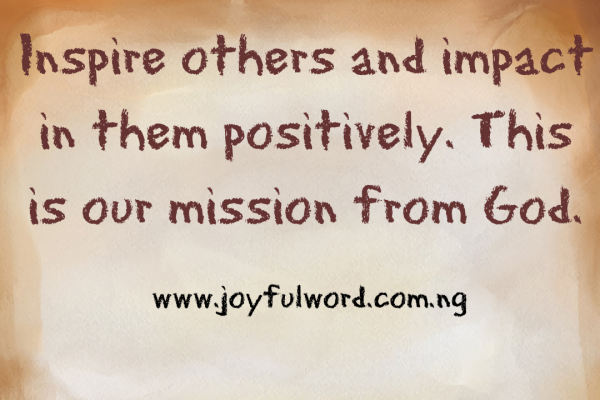 A WORD FOR TODAY
We must always try to live a life that will impact on others positively. This is the only way we can be like Christ who when He came on earth showed a wonderful example with His life and many believed in Him.
Saint Paul in the first reading of today had to write to the Church he founded in Thessalonia to encourage them and to continue to show them an example of who a good leader is. He proclaimed the Good News to them and lived a good life and many of them came to believe in Christ because of his work among them. He was touched by Jesus and he made himself available so that Jesus would use him to touch others positively.
we live in our world where the things we do or say could either inspire others to do good or to do evil. As disciples of Jesus we must make effort everyday to live up to our responsibility by impacting in people positively so that those we have inspired in the right path will also inspire others, thereby making the world a better place.
Jesus in the gospel reading of today did not waste time to speak words of woe against the Pharisees and Scribes because of their hypocritical lifestyle. Their way of life became an obstacle to those who wish to follow Christ. They were a bad example to the people and Jesus did not spare them but chastised them with His words.
They were pretenders and they were living a false life and leading others astray. They were teaching what is not true and manipulating others to their own advantage. We must not be like them, but should always look up to Christ and learn from Him because He has given us a good example to follow.
We must be conscious of who we are and strive everyday to live a life that will inspire others to do good and not evil. We must teach others by the things we do and for us to be able to teach others well, we must submit ourselves to God and listen to Him always and also obey His commandments. This will will give us the strength to continue to represent Him well here on earth.
_Good morning dearest one. Smile😊 as you do your work and do have a blessed New Week. May Jesus help you to live a life that will inspire others positively. Amen. *And may the Almighty God bless you: the Father and the Son and the Holy Spirit. Amen.*_
*Meditation:* 1 Thessalonians 1:1-5,8-10/Psalm 149:1-6,9/Matthew 23:13-22
*Watch-Word:* The Lord takes delight in His people.
God's light is in you, strive everyday to put more light in people than darkness. Inspire and impact others positively.