A WORD FOR TODAY 27 MARCH 2020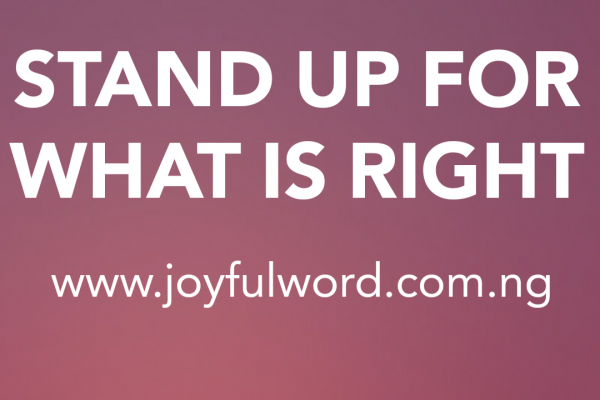 A WORD FOR TODAY
STAND UP FOR WHAT IS RIGHT
Sometimes in life we are faced with the challenge of not being treated well by those we practically helped to get to where they are at the present times in terms of material and spiritual growth. They may even turn around to be part of those who will persecute us and try to do away with us.
This is what we see in the readings of today. The ungodly men lie in wait for the righteous man and plot to destroy him, simply because he does not agree to their evil deeds and plans.
In the gospel reading, the plot to destroy Jesus has started gathering momentum and He still did not hide himself, but continued to propagate the truth. He stood for for what is right, he stood for justice, he stood for God's glory even when He knew His life was at risk of being destroyed.
Jesus did not stop to proclaim the Good News even when they persecuted Him and made a plot to kill Him. We must learn from Him to stand up for what is right always. To speak the truth and not be afraid of those will fight us and try to stop us from shinning out as the light.
When you see people being oppressed, stand up and speak for them, defend them and try as much as you can to fight for them. People may call you names and even try to destroy your integrity. Do not be afraid even to lay down your life for the truth to be known. Be the voice of truth and be the light that will help others to see well and glorify God.
Do not be part of those who will plot to destroy a good man or woman simply because the person is doing things that is exposing your works of darkness, instead change from your evil ways so that you may be saved.
Good morning dearest one. Smile😊as you do your work and do have a magnificent day. May effort and sacrifice to stand up for what is right never be in vain. Amen. And may the Almighty God bless you: the Father and the Son and the Holy Spirit. Amen.
Meditation: Wisdom 2:1,12-22/Psalm 34:17-18,19-23/John 7:1-2,10,25-30
Watch-Word: The Lord is close to the broken hearted.
Do not be afraid to speak the truth even when it will cost you your life.
(Friday of the fourth week of Lent. Day 27)