A WORD FOR TODAY 27 OCTOBER 2019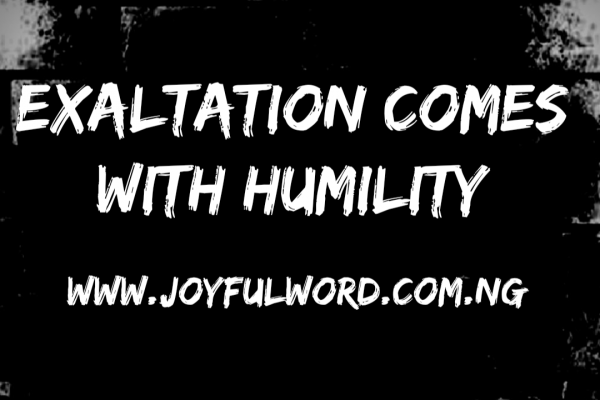 A WORD FOR TODAY
EXALTATION COMES WITH HUMILITY
The author of the book of Sirach tells us in the first reading of today that the prayers of the humble pierces the cloud, this means that it is very efficacious. The efficacy of such prayers comes from the fact that the individual has prayed with a heart full of humility and without pride as we can see in the gospel reading.

The two people that that Jesus talked about in the parable of today, the pharisee and the tax collector both went to the temple to pray and in the end one of them went home justified and his prayer was answered, because he humbled himself before God, acknowledged his sinfulness and asked for mercy. The other did not find acceptance because, he came before God with pride and tried to justify himself as a righteous person. Infact, he actually went to show God how righteous he is and not to pray.*_
We cannot pray and pray well without humility. If we must pray, it must be simple and humble and we must make sure that we do not justify or exalt ourselves, but let God be the one to exalt us. Even if you feel you are strong, you must not despise the weak around you and try to use them to shine, instead, you should always be conscious of the fact that you are nothing without God and that if the Lord should mark our guilt non of us will stand before Him.
If we are going to be holy and to be able to pray well, we must always aim to be like Jesus in humility and holiness. He should be our standard and once we look up to him we will never brag about anything, but in humility always seek His grace to help us to continue to live well in order to gain eternal life.
If we do not let the grace of God work in us and transform us, we will never say with confidence like saint Paul in the second reading that we have fought the good fight of faith and we may never get the crown of righteousness. He dedicated his life to proclaiming Christ in love, he suffered for him, his faith was unwavered even when it was tested by difficulties and persecutions. He remained steadfast until the end. This will be the lot of all those who put their trust in the Lord. We have a race to run and a purpose to fulfill in this life, therefore, there is no room for distraction, we must stay focused and keep moving forward until we win.
When we examine our conscience and come before the Lord we must have reverence for Him for He is a holy God and there is no one like Him. We must always come before the Lord with a broken and contrite heart and we shall find mercy and forgiveness and we will leave his presence with peace.
The pharisee was distracted with his self-pride and he could not pray in a manner that will make his prayers to be answered, but the tax collector knew why he was in the presence of God and he offered a simple prayer for mercy and he was answered. The pharisee was physically in the temple, but his heart was far away from God, it was outside the temple, therefore, God could not encounter him and he went home empty. The pharisee judged others and when God judged him, he was found to be with sin of which he accused the publican. The Lord is close to the broken hearted (Psalm 33:19).
Humility is a virtue we all need as disciples of Jesus and it is the attitude for the temple. It is the foundation of prayer and only those who pray with humility will have their prayers answered. Whatever we have is a gift from God and as such we can never boast with it, but be humble and use them in His honour without looking down on others. We must pray always, but for our prayers to be efficacious and effective, it must come from a humble heart who acknowledges his or her unworthiness before God and seeks for His mercy and strength to rise again and become a better person.
Good morning dearest one. Smile😊 as you begin your day and do have a splendid Sunday. May your prayers offered with humility at the mass today find acceptance before God. Amen. And may the Almighty God bless you: the Father and the Son and the Holy Spirit. Amen.
Meditation: Sirach 35:12-14,16-18/Psalm 34:2-3,17-19,23/2 Timothy 4:6-8,16-18/Luke 18:9-14
Watch-Word: The lowly one called and the Lord heard Him.
God answers our prayers, especially when it is offered from a humble heart. Do not pray if your heart is not humble, but pray to God to make your heart humble so that you can pray well and receive answers.
(30th Sunday in the Ordinary Time,Year C)