A WORD FOR TODAY 29 SEPTEMBER 2019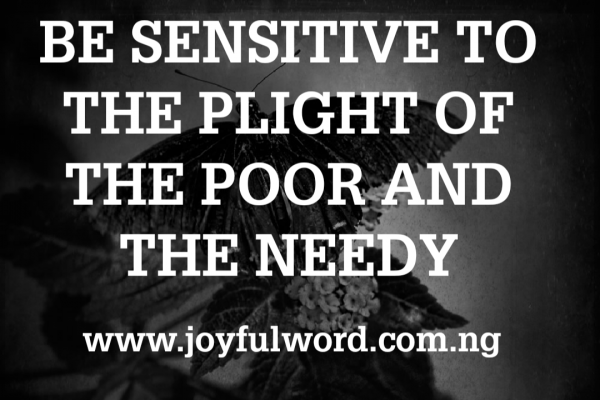 A WORD FOR TODAY
BE SENSITIVE TO THE PLIGHT OF THE POOR AND THE NEEDY AROUND YOU
If there is something that wounds the heart of God, it is when we fail to use the gifts we have received freely and generously from Him to help others who come to us at various times with their needs. God gives us out of love and He expects us to give to others out of love, because He is the source of all goodness. In His generousitywe have what we have and we must be generous enough to use it to do good to others who may be in need.
In the first reading of today we see how the Lord through the prophet Amos rebuked the rich who failed to use their wealth to help the poor. They felt they had everything and that made them despise the poor and as a result of their insensitivity to the needs of the poor they were taken into exile.
No condition is permanent in life. Infact, the only thing that is constant and permanent in life is change. Therefore, do not look down on people or treat them badly, because you are in a better position today. Try as much as you can to use what you have to do good to them, because things may turn around and those you helped with your gifts will turn to be your saviour tomorrow when you will be in need.
The rich man in the gospel reading could not help poor Lazarus because he felt that he has everything and will never have a need for Lazarus someday, but that was not the case as we could see. He has everything here on earth, but when he died, he now realized that he actually has a need for Lazarus and by that time it was too late. We must cease every opportunity at our disposal to do good to others especially to help the poor and the needy, so that in our times of need we shall find help.
If you intend to make heaven on the last day, you must strive to possess the virtues of righteousness, godliness, faith, love, steadfastness and gentleness which saint Paul recommended to Timothy in the second reading of today. These virtues will help us to be sensitive to the needs of others and see what we can do to help them.
We may not have everything, but the little we have will be enough if we consider others who do not have and share with them what we have. Do not boast with what you have, use your wealth to help the poor and never look down on others and oppress and exploit them because of their poor condition. We must try as much as we can to be like Jesus to them who though was rich, yet for our sake He became poor, so that by His poverty we might become rich.
When we fail to notice the plight of the poor among us and do something to help them, we lock the gate of heaven against us. The rich man suffered after death, not because he did something against poor Lazarus, but because he failed to notice him and did not do any good to him to alleviate his suffering and pain. We must be ready to console the sorrowful, wipe away tears in the eyes of others, be a balm of healing to the sick, feed the hungry, cloth the naked, be a source of encouragement to the downcast and make sacrifices to help others rise up from their pain and find joy.
The goods of this world are for all and must be shared out. Whoever has more must give to the one who has less or nothing and it will make everyone to have something. God is sending you as a helper to someone else out there who is in need, look around, identify the person and let God make use of you to lift them up and be rest assured that in your time of need, He will also send help to you through others.
Good morning dearest one. Smile😊as you begin your day and do have a joyful Sunday. May Jesus touch your heart so that you can feel the plight of the poor around you and do something to help them. Amen. *And may the Almighty God bless you: the Father and the Son and the Holy Spirit. Amen.
Meditation: Amos 6:1,4-7/Psalm 146:6-10/1 Timothy 6:11-16/Luke 16:19-31
Watch-Word: Help the poor and you will find help in your time of need.
Never close your eyes to the needs of the poor and do not block your ears to hear their cry for help. Help them as much as you can and God will help you in your time of need.
(26th Sunday in the Ordinary Time, Year C)