A WORD FOR TODAY 3 FEB 2019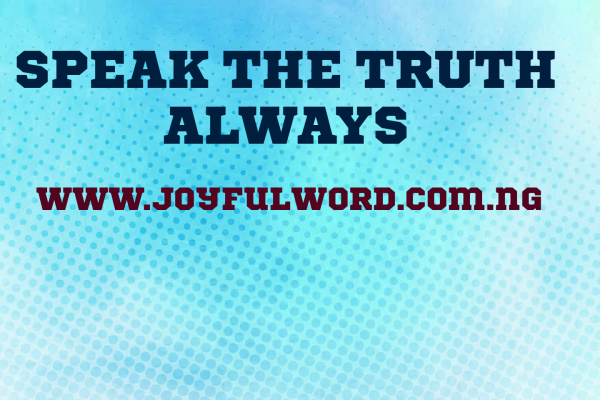 A WORD FOR TODAY
God chooses who He wants for specific purpose in life. His choice is always the best because He knows us even before we were formed in our mothers womb as Jeremiah noted in the first reading.
Just as Jeremiah was chosen by God to speak the truth to the people, our Lord Jesus Christ also spoke the truth to His people, but they rejected Him as they rejected Jeremiah simply because they know who He is and where He has come from. Familiarity in most cases breeds contempt when you look down on the one who is telling you the truth.
We cannot stop to speak the truth even if we experience rejection in the hands of the people. We should be encouraged by Jesus' reaction. He continued to speak the truth even though He suffered persecutions in the hands of the people.
If we have love in our hearts as saint Paul admonishes us in the second reading, we will speak the truth to the people and we will be open to accept the truth when it is spoken to us even if it hurts.
We must put on the garment of love as true children of God. This will help us to carry out God's assignment for us in the manner that will be pleasing to Him and it will also help us to go the extra mile to win souls into His kingdom.
Good morning dearest one. Smile😊and do have a blessed Sunday. may God's grace abide with you always as you speak the truth and may your life reflect His love to those who hear you. Amen. And May the Almighty God bless you: the Father and the Son and the Holy Spirit. Amen.
*Meditation:* Jeremiah 1:4-5,17-19/Psalm 71:1-6,15-17/1 Corinthians 12:31-13:13/Luke 4:21-30
*Watch-Word:* Love is patient and kind, love us not boastful!
Speak the truth always, even if you will be hated for it, because God will be with you and His love will never abandon you.