A WORD FOR TODAY 3 NOVEMBER 2019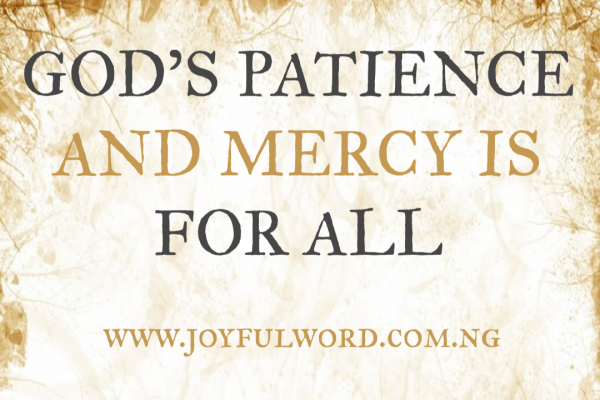 A WORD FOR TODAY
GOD'S PATIENCE AND MERCY IS FOR ALL
There is something we must always bear in mind as we journey in this life, that is, the fact that God's ways are not the ways of men. Sometimes what we expect that He will do and the way He will act is not what happens. This is exactly what we find in the first reading of today. The author was explaining to the people why God does not destroy the sinners. He noted that God is patient and wants the sinners to repent, therefore, He corrects them little by little until they return back to Him and live well.
God's patience and mercy is for all and He does not treat us as we behave. If He marks our sin, truly, non of us will survive. He does not take pleasure in the death of a sinner, but He wants the sinner to renounce his sin, repent and live. (Ezekiel 18:23). However, that God is patient and merciful should not be an opportunity for us to dwell in sin. We should always strive to hear His voice when He calls us so that we shall return to Him and be happy.
God is patient and merciful. He loves us so much that He created us in His own image and likeness and after the fall of man at the garden of Eden, He sent His only begotten Son our Lord Jesus Christ to come and die for us. All these, points to the fact that God does not want us to be lost forever, but to return to Him and find peace and joy which we must lose anytime we stray away from Him.
The story of Zacchaeus in the gospel reading of today also highlights God's love, patience and mercy to the sinful man. Zacchaeus sought to see Jesus and he made a move and Jesus seeing that he sought Him, now went to him to give him salvation. Jesus healed, restored and gave him a new heart and he now became conscious of the wrong he has done in the past and made amends through restitution. Jesus is always ready to come to us and save us, but we must show sincere and honest interest that we desire Him. We must seek out the Lord for He alone can heal and restore our life when it is in a mess.
God is patient and merciful. The punishment we receive from Him from time to time when we transgress is aimed at bringing us back to Him. He is constantly seeking our heart and to dwell in us, but most times we are distracted by the things of this life and they become obstacles to the wonderful relationship we are supposed to have with Him.
When Zacchaeus met the obstacle of the crowd, he had to climb the sycamore tree. He did not want to miss that opportunity and Jesus indeed noticed Him. We should not let anything stop us from seeking the face of God or His mercy. We need Him for our healing and restoration, we need Him for our peace. We should position ourselves well through our desire and prayers so that He will notice our effort and come to help us to become good again.
When we live in sin, although we may be wealthy, we will still be unhappy. We may have everything, but we will be lonely. We will become empty and sad, because sin messes us up and we will have no respect. God is calling us everyday to return to Him so that we will find the joy we have lost by living in sin. The opportunity we have now is one that is calling us to rise from where we have fallen to come back to Him. It does not matter the gravity of what you have done, what matters is that God's love and mercy is supreme and it can heal the wounds and scars of sin in you.
Zacchaeus encountered Jesus and his life turned around for good. He changed and showed it in action. He became a disciple of Jesus and he now found new friends in Christ. If we must find Jesus like Zacchaeus did, we must rise above the obstacle of lust and love for the material things of this life. We must be ready to let go of our attachment to earthly things and use what we have to do good.
Zacchaeus ceased this opportunity to find Jesus and it would have been the last he would get. We must not let opportunity to truly and sincerely repent of our sins pass us by, because we may never have them. Therefore, now is the time to return back to the Lord. He loves us and is waiting to come and dine with us in our heart. We must let Him into our home and we will gain much more than we have lost when we were living in sin.
Good morning dearest one. Smile😊as you begin your day and do have a merciful Sunday. May God's mercy locate you and may God's love and forgiveness move you to do the same to others who have sinned against you. Amen. And may the Almighty God bless you: the Father and the Son and the Holy Spirit. Amen.
Meditation: Wisdom 11:22-12:2/Psalm 145:1-2,8-11,13-14/2 Thessalonians 1:11-2:2/Luke 19:1-10
Watch-Word: God so loved the world that He gave His only Son, that whoever believes in him should have eternal life.
God is patient, God is merciful, seek Him today and you will find the salvation you need.
(31st Sunday in the Ordinary Time, Year C)