A WORD FOR TODAY 31 DEC 2018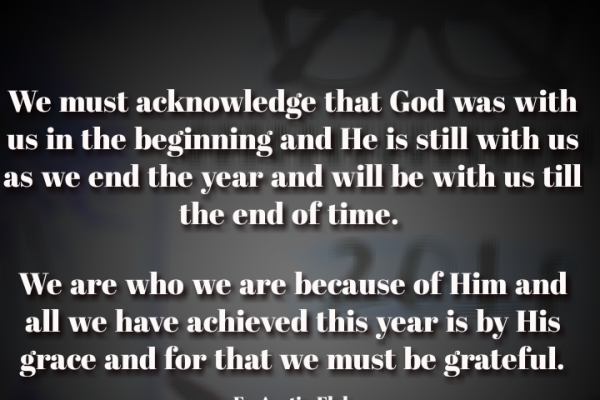 Today marks the end of the 2018 calendar year and we have no option than to be grateful to God for making it possible for us to see the end of the year and by His grace and mercy we shall march into the new year with a renewed hope of better days ahead._
We must acknowledge that God was with us in the beginning and He is still with us as we end the year and will be with us till the end of time. We are who we are because of Him and all we have achieved this year is by His grace and for that we must be grateful.
When we let the word of God rule our lives we will be filled with the power to do good things in the name of God who has given us life. God is light and in Him there is no darkness. Therefore, it should be our responsibility to keep being the light even as we enter into a new year._
Wrap up the year in a good way and be conscious that the evil one will continue to fight until the end of time, therefore, let the light of Christ shine in you to dispel any element of darkness that may hang around you.
Good morning dearest one. Smile and be cheerful as you end the year and may the new year bring you lots of opportunities to achieve greatness in the name of our Lord Jesus Christ. Amen. *And may the Almighty God bless you: the Father and the Son and the Holy Spirit. Amen.
Meditation: 1 John 2:18-21/Psalm 96: 1-2, 11-13/John 1:1-18
Watch-Word: Ending well to begin begin well because God is involved!
We must feed daily on God's Word and we will be able to witness for Him. Step up and keep proclaiming Christ everyday. #We cannot go on holidays in proclaiming Christ.