A WORD FOR TODAY 4 JANUARY 2020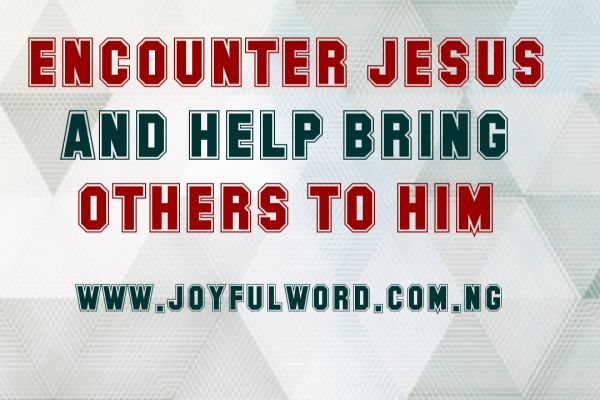 A WORD FOR TODAY
ENCOUNTER JESUS AND HELP BRING OTHERS TO HIM
One of the good things that could happen to us in this life is to have a friend who will be ready to show us something good when he or she finds one, so that we can also enjoy what he or she enjoys. Good people will be ready to share with others, but evil people will always hide it from others and will choose to have it all to themselves.
John the Baptist was generous to point out Jesus to his disciples as the lamb of God. They left him to follow Jesus and encounter Him and that experience had a great impact in them that they were moved to invite their brother Peter to come and meet the Messiah also.
To know Jesus is the best thing that could happen to us in this life, however, knowing Him is not enough, we must be ready to share Him with others and make them to come to encounter Him too. No one who encounters Him will remain the same, therefore, do your best to lead people to Jesus so that they can find salvation, mercy, healing and restoration in Him.
Jesus is inviting us to come and meet Him. He has the word of eternal life and He will nourish us and help us to live a holy life. We will live right and be like Christ, if we make out time to draw closer to Him. He will give us the grace to love as He has loved us.
Staying close to Jesus will expose us to the plan and purpose of the Lord for our life and it will also help us to know the way that leads to life. We shall become instruments of salvation in His hands and we will draw more souls to Him. We can encounter the Lord in the Church during the sacrifice of the mass, by visiting Jesus in the blessed sacrament, during our private devotions and even when we participate in programme and activities that glorify his name. We can also encounter him in the poor, the sick and the needy. He is ready to be encountered, if we are ready to honour His invitation to us.
Good morning dearest one. Smile😊as you do your work and do have a magnificent day. May your encouter with Jesus transform you and may you be ready to take others to to encounter Him too. Amen. And may the Almighty God bless you: the Father and the Son and the Holy Spirit. Amen.
Meditation: 1 John 3:7-10/Psalm 98:1,7-9/John 1:35-42
Watch-Word: All the ends of the earth has seen the salvation of our God.
Draw closer to Jesus and you will experience His glory, then go out and let others come to see the One who has changed things in your life.