A WORD FOR TODAY 6 FEB 2019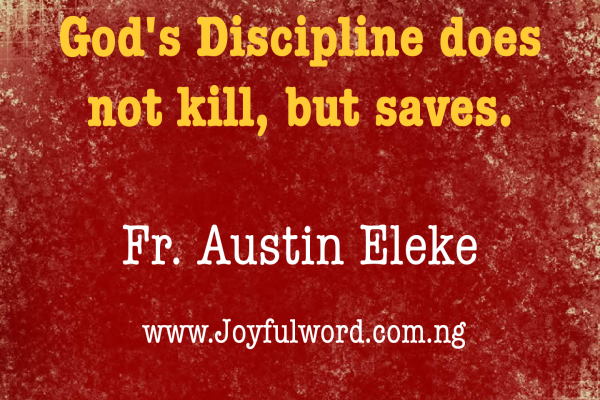 A WORD FOR TODAY
Without discipline our lives here on earth will certainly be very chaotic and without order. Discipline helps us to stay focused on our mission and avoid unnecessary distractions that will come our way.
Anyone who intends to achieve any meaningful thing in life must be ready to pass through some disciplinary measures so as to keep the person in check.
God disciplines us because He loves us and wants the best for us. If we do not dispose ourselves to receive His discipline we will grope in darkness and wander away doing the things that does not please Him._
We need to stay close to God always and let Him do with us whatever He wills because He will always correct us when we go astray and His correction is for our own good and not to destroy us.
Our earthly parents discipline us from time to time to make sure we keep to their rules, how much more our heavenly Father. The persecutions, sufferings and pain we experience in His name should not make us despair, but persevere because the gain at the end will be much more than what we may lose in the process.
Today we celebrate the memorial of saint Paul Miki and his companions. They were mayrtrs from Japan who gave their lives for the sake of Christ. Let us learn from them to keep giving our lives for God's sake for the good of humanity.
Good morning dearest one. Smile as you do your work and do have a wonderful day. May Jesus give you the grace to remain steadfast in times of your chastisement. Amen. *And May the Almighty God bless you: the Father and the Son and the Holy Spirit. Amen.
*Meditation:* Hebrews 12:4-7,11-15/Psalm 103:1-2,13-14,17-18/Mark 6:1-6
*Watch-Word:* The Lord disciplines him whom He loves!
If you refuse to be disciplined by the Lord, you cannot be His true disciple.