A WORD FOR TODAY 6 NOVEMBER 2019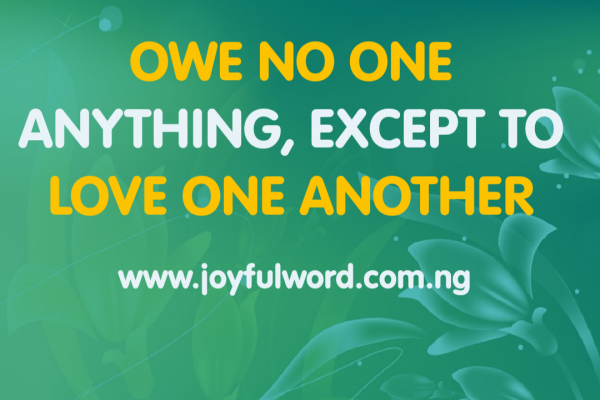 A WORD FOR TODAY
OWE NO ONE ANYTHING, EXCEPT TO LOVE ONE ANOTHER
The greatest of all virtues is love and that is what saint Paul tells us in the first reading of today that we should put on always as we follow Christ. If we must owe any debt to any one, it must be the debt of love. Christ has shown us what true love means and we must love God from the depth of our heart and also love our neighbour as He has loved us.
When we make the decision to follow Jesus as His disciples, it comes at a cost, we must make sacrifices that will place God first in our life above everyother thing. Our love must primarily be for Him and through Him it will extend to other people. If we do not choose Him above family members, wealth, positions, status, friendship, political affiliations e.t.c we will never be His true disciple.
Love is the fulfilment of the law because all the other commandments are summed up in it. This means that if we love God, we will not do anything that will offend Him. We must always make conscious effort to please Him and to do His will. In the same way, if we truly love our neighbour as Christ has loved us we shall do them no harm, instead we will always work for the things that will bring good to them.
To follow Jesus we must bear our cross and we must be ready everyday to die for His sake. We die when we deny ourselves of earthly pleasures in order to satisfy the need of a less privileged person around us. We carry our cross when suffer punishment for the evil we did not commit, but bear it patiently for the sake of Christ. We bear the cross when people hate and persecute us for the sake of Christ and do us harm. In all these we must remain steadfast and we should never pay back evil with evil, but with good and in that way we shall be like Jesus who has given us an example in love.
We must always count what it will cost us to follow Christ, but the task of following Jesus should not put fear in us, but make us to trust God more, who does not leave us alone, but gives us the strength we need to follow Him well. We must love God and we must love our neighbour. When we act in love we shall become true disciples of Jesus in this life. If we fail to love as Christ has loved us we will become selfish, greedy, jealous and most times, wicked. This is not what the Lord wants from us, but to lay down our life for others on a daily basis as He laid down His life for us.
It is our duty as disciples of Jesus to practically show others what it means to love. We must be generous to the poor, we must feed the hungry, we must help the sick, we must assist the prisoners and provide clothing and shelter to the naked and homeless. We must always look out for what will bring good to others and not what will cause them pain. We must deny ourselves of every attachment to the things of this life so as to attach ourselves to Jesus and love Him above all else. God has loved us by sending His Son to come and die for us and we must reciprocate this love by loving our neighbour as we love ourselves.
Good morning dearest one. Smile😊as you do your work and do have a splendid day. May God's love move you to lay down your life everyday for the good of others and glory of His name. Amen. And may the Almighty God bless you: the Father and the Son and the Holy Spirit. Amen.
Meditation:* Romans 8:13-10/Psalm 112:1-2,4-5,9/Luke 14:25-33
Watch-Word: Love does no wrong to a neighbour.
When we love the created things more than the creator, we lose our identity as true disciples of Jesus.
(Wednesday of the 31st Week in the Ordinary Time, Year 1)