A WORD FOR TODAY 7 DECEMBER 2019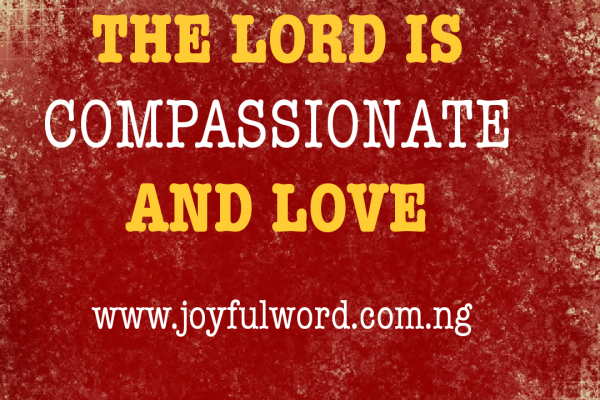 A WORD FOR TODAY
THE LORD IS COMPASSIONATE AND LOVE
The Prophet Isaiah tells us in the first reading of today that the Lord will be gracious to His people when He hears the sound of their cry. He will show them the way to follow which leads to life and not destruction. All these will be possible because the Lord is compassionate and love. He cares for His people and makes provisions for them in their times of need._
The Lord is compassionate and love because He heals the wounds in our hearts and gives us a new opportunity to become His friends and He supplies and provides for us. He takes care of us and will not let adversity and affliction crush us or incapacitate us because we belong to Him.
We see Jesus in the gospel reading show compassion to the sick and the needy and He set out to teach them and to heal them of their diseases. His actions flowed from the compassion He feels in His heart for wounded humanity. He is the Shepherd of our soul and He came to lay down His life so that we will be saved.
Jesus came into the world to show us the way to the Father and the hallmark of everything He did and achieved was based on the love that flowed from His heart to us. Through His words and actions He has left us an indelible example on what true love is all about and how we can show same to those who come to us.
_As Jesus chose and appointed the twelve to go out and proclaim the Good News. We have also been chosen by virtue of our baptism to go out and show people the way to Christ and to be compassionate. We must be like Jesus to all men and women in the world. We must show them love and help them to heal of their diseases through our compassionate words and actions. God has given us the gifts we possess freely and freely we must use these gifts to serve the Lord in the people and help them to follow the path that leads to life._
Today we celebrate the memorial of saint Ambrose (340-397) He is a saint who devoted his life in learning, teaching and showing love to the needy. He was instrumental in the conversion of saint Augustine. We must learn from him to be dedicated to God and to do our work well so that through us others will find salvation.
_Good morning dearest one. Smile😊as you do your work and do have a wonderful weekend. May Jesus be compassionate to you and may He move your heart to be compassionate to others. Amen. *And may the Almighty God bless you: the Father and the Son and the Holy Spirit. Amen.*_
*Meditation:* Isaiah 30:19-21,23-26/Psalm 147:1-6/Matthew 9:35-10:1,5,6-8
*Watch-Word:* You received without pay, give without pay.
_*The Lord is compassionate and love, He will hear your cry when you call upon Him and He will show you mercy.*_
(Saturday of the first week of Advent, Year A)