A WORD FOR TODAY 8 JUNE 2019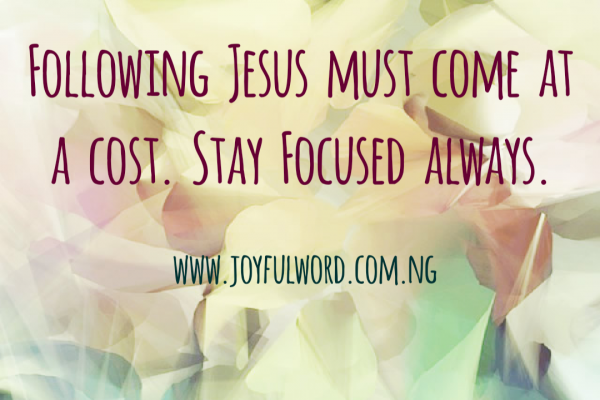 A WORD FOR TODAY
When saint Paul was chosen by Jesus to follow Him, he never knew what it entails or at what cost it will be, but he never stopped following Him even when the going got tough, instead, he used every opportunity to proclaim Jesus even when he was in chains and was about to be killed.
To follow Jesus will definitely come at a cost and we must be determined to follow Him and proclaim His name in good times and in bad. This is the only way we can show the world and also show our Lord that we love Him.
We are called as Jesus' disciples to follow Him and if we are going to do it well, we must stay focused and not allow anything to distract us. Peter got distracted as we could see in the gospel reading and Jesus had to make Him realise that what matters is following Him and not what happens to the one who does.
We must open our heart to the Holy Spirit and let Him guide and lead us always, this will help us to stay focused and do the right thing and avoid the distraction that will come from the things we see in this life.
God has called us differently and He has different tasks for us. We are all gifted in different ways, but it is the same God that owns us all. He knows where He wants to make use of us, but we must be ready to let Him use us as He pleases.
God can use anybody and we should not be jealous or try to be who we are not called to be. There is so much we can do for Him if we let Him lead us and guide us. We must go on proclaiming His name in good and difficult times and He will make name for Himself.
Good morning dearest one. Smile😊as you do your work and do have joyful weekend. May the coming of the Holy Spirit revive your soul and give you the strength to remain steadfast till the end. Amen. And may the Almighty God bless you: the Father and the Son and the Holy Spirit. Amen.
Meditation: Acts 28:16-20,30-31/Psalm 11:4,5,7/John 21:20-25
Watch-Word: The upright shall behold your face, O Lord!
God has chosen us to witness for Him and we must do it in good times and in bad. Stay focused always!