AGAINST YOU O LORD HAVE I SINNED (Isaiah 58:1-9/Psalm 51:3-6,18-19/Matthew 9:14-15)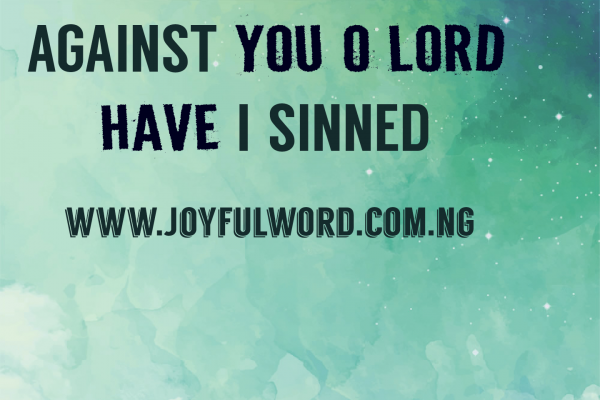 AGAINST YOU O LORD HAVE I SINNED
(Friday March 8, 2019)
A correct attitude during the Lenten period is to observe those things that help us initiate a cordial relationship with God. We embark on those Lenten practices not just for formality sake or to fulfil all righteousness or because the Church has said so.
This is exactly the problem Christ had the Pharisees and Elders of His time who tried to observe what the Law says but the hearts were far away from God. In fact, there was a very big gap between what they teach and what they practice. It was this very wrong attitude of fasting, prayer and almsgiving that Christ condemned in the gospel reading of Ash Wednesday and provided us with a correct attitude to these Lenten observances so that after embarking upon them, they will merit us more blessings from the Lord.
The same thing that Christ condemned in the gospel of Matthew 6: 1-6, 16-18, is what the first reading from Prophet Isaiah is crying out today.
This is what the Lord said through the Prophet "you oppress all your workmen; look, you quarrel and squabble when you fast and strike the poor man with your fist. Fasting like yours today will never make your voice heard on high. Is that the sort of fast that pleases me, a truly penitential day for men? Hanging your head like a reed, lying down on sackcloth and ashes? Is that what you call fasting, a day acceptable to the Lord?" (Isaiah 58: 1-9).
According to Isaiah, this is the type of fasting that pleases the Lord "to let the oppressed go free, and break every yoke, to share your bread with the hungry, and shelter the homeless poor, to clothe the man you see to be naked and not turn from your own kin? Then will your light shine like the dawn and your wound be quickly healed over. Your integrity will go before you and the glory of the Lord behind you"
It is this type of fasting that will merit us more blessings from the Lord and when we Cry to Him, He will hear and answer us. When we call, and He will say "I am here". May we pray that the Lord will give us the strength to accomplish with sincerity the bodily observances we undertake.
Let Us Pray: Lord Jesus, help me to do your will always and may my fasting and prayers of this season be acceptable before you. Amen