BE PERFECT AS YOUR HEAVENLY FATHER IS PERFECT(2 Corinthians 8:1-9/Psalm 146:1-2,5-9/Matthew 5:43-48)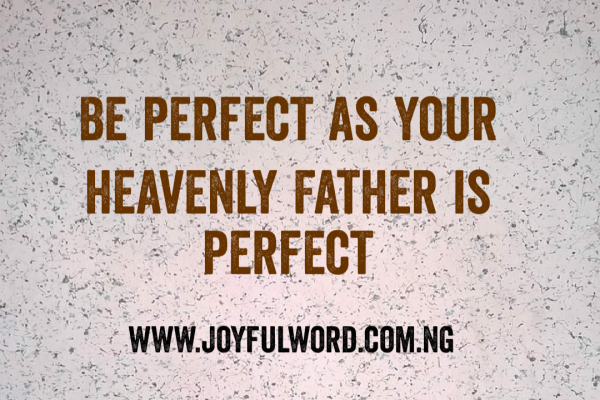 BE PERFECT AS YOUR HEAVENLY FATHER IS PERFECT
(Tuesday, June 18, 2019)
Jesus points out today that our love for our family and our friends is not that special as that is what all human beings do. And that is not enough if we are going to be His followers. Jesus said, "Be perfect as my Heavenly Father is perfect." Yesterday's gospel identifies other ways to move towards perfection: giving people more than they ask for, going the extra mile and turning the other cheek.
Today's gospel talks about something much harder: loving even our enemies which at times is more of theory than practice by many of us. In the first reading, St. Paul writes: "…to test the genuineness of your love by your concern for others." St. Paul probably was not talking about our concern just for our family and friends.
He was talking about something harder, something that will push us towards perfection. Jesus is commanding us today to be perfect in all we do. God's perfection will force us to be compassionate when we really don't want to or we don't think we can. Becoming perfect in all we do is not as easy as we say it here but it is only through the special grace of God and then our effort no matter how little such effort is, that we can achieve it.
What God always counts in our relationship with Him is not necessarily perfection in all our acts but the efforts we are making to be perfect even when we don't really get at the target we are looking for. If we try hard enough, God's grace will help us do things we never thought we could. This journey on the road to perfection will not be easy, but it is what our society needs. It is also what Jesus is calling us to do.
Let Us Pray: Lord Jesus, give me grace to love others as you have loved me and may my life witness for you everyday. Amen.