GO AND SPREAD THE GOOD NEWS (1 Kings 19:16,19-21/Psalm 16:1-2,5,7-11/Galatians 5:1,13-18/Luke 9:51-62)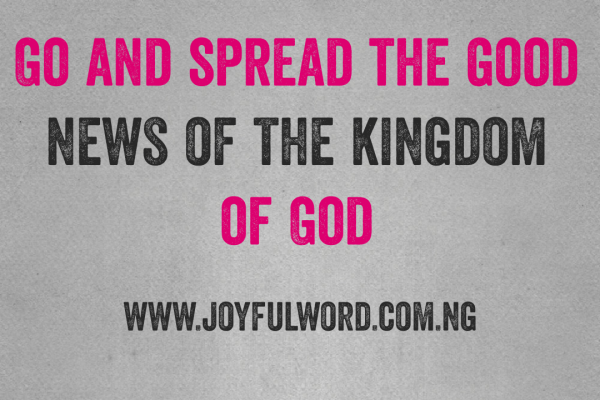 YOUR DUTY IS TO GO AND SPREAD THE GOOD NEWS OF THE KINGDOM OF GOD
(Sunday, June 30, 2019 13th Sunday in Ordinary Time, Year C)
Determination to follow God's call and the cost of discipleship helps to focus on the central message of this Sunday readings. The first reading from the First Book of the Kings is about the call of Elisha. The passage dramatizes the implications of responding to God's call. Elisha does the unthinkable. What he does is madness in the eyes of the world, but a wonderful metaphor for total detachment in order to embrace a divine call.
He slaughters the very oxen used for ploughing! If you can imagine in today's world a young man destroying all the farm machines and tools before going to the seminary, that is what Elisha does by destroying the source of family livelihood. Here, it sounds crazy and unthinkable but the message is always to say yes to anything God wants us to do for Him either in our relationship with God Himself or in our relationship with our neighbour.
The Gospel of today shows various people coming up to Jesus and giving reasons why they cannot follow him immediately, but also how they intend to follow him as soon as possible. The Gospel applies to us too and the temptation of telling Jesus "let me finish up a few things first, and I will follow you later when I have less responsibility". So, irrespective of whether the excuses given by people were good or whether they were weak, nothing must be allowed to stop the mission of Christ from being accomplished. We need to get our priorities right. The call of Christ has an urgency that demands first priority.
And we must not let the many reasons that surround us, frustrate that plan. There may be good reasons to put off until tomorrow (or later) what really needs to be done today. And of course, tomorrow may never come. Jesus invites us to let go of everything so we may be free to follow him. Since the Proclamation of the kingdom comes first, Jesus wants us to follow Him now, not tomorrow or later.
Christ's call radically implies some painful hard choices and a price to pay. "Whoever wishes to come after me must deny himself, take up his cross, and follow me" (Mk. 10:34). In other words, following Jesus implies risking one's life, one's self-image, being rejected, ridiculed and despised. It means losing one's life, even by death, for the sake of Christ. In God's call, there is no plan B! It means taking the risk to let go and let God take over your life.
Our response to God's call implies doing the unthinkable like Elisha in the first reading even though people may think that we are mad. Our response like that of Elisha means giving up everything not allowing anything to be an obstacle in order to follow God's call. Again, Christian stewardship implies lots of self-sacrifices including risking one's life, one's self-image, being rejected, ridiculed and despised.
You and I are called to let go in order to be free to follow Christ as Saint Paul in the second reading says "when Christ freed us, He meant us to remain free". When God calls us to follow Him we must not allow anything to be a stumbling block to such call. It is a call that demands our freedom.
Let Us Pray: Lord Jesus, give me grace to follow you without looking back and may I pay the price of discipleship everyday. Amen.