GOD HAS GIVEN HIS ANGELS CHARGE OVER US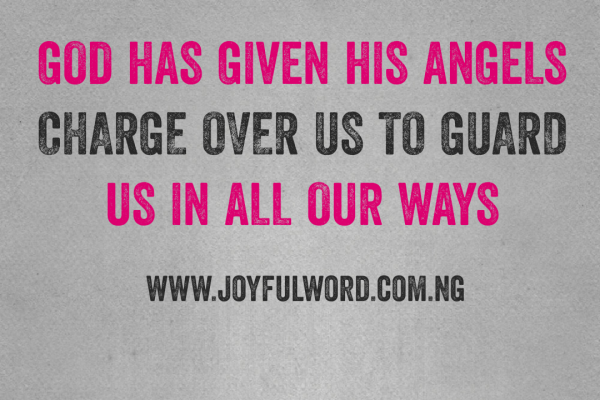 GOD HAS GIVEN HIS ANGELS CHARGE OVER US TO GUARD US IN ALL OUR WAYS
(WEDNESDAY, OCTOBER 02,
THE MEMORIAL OF THE HOLY GUARDIAN ANGELS)

The first reading today begins with another praiseworthy fellow, Nehemiah, the cupbearer to King Artaxerxes. The reading is a mix of stories about loyalty to a king, loyalty to land and the people, and loyalty to God. In this reading, we gain insight into Nehemiah's personality, his respect for his King and his love for his people. Nehemiah uses a masterpiece of diplomacy in asking the King to give him leave of absence to help restore his people and their land. One could rightly say that it was the King's withholding of resources that disallowed the Jewish efforts to rebuild their protective wall. Because Nehemiah cannot disguise his true feelings of sadness and when asked why he is not cheerful, he tells the King the city where his ancestors are buried lies in ruins. We can see here that Nehemiah pauses before he answers the King and prays to God for the words. And of course the King asks what he would like, and Nehemiah asks if he can be released from his duty to go and help with the restoration of the wall and its city. He never blames the King for his actions, and the King takes pity and gives him full access. The king indeed inquired about Nehemiah's interior life -- and Nehemiah answers honestly! At times, when our friends ask us how we are doing, we sometimes might tell them about something that bothers us and in some other time, we feign a positive outlook and change the subject!
Nehemiah tells it like it is – and boldly asks for the king's assistance in helping his people.
Nehemiah was presumably doing fine in Persia, with a very responsible position. But he longed to return to his homeland. We all long for such a place, where our people can be found and where they can find us. For Nehemiah, this was a particular longing to rebuild this dignity of living among his own people, rather than in exile as an alien. Those longings can be heard in the Psalms. We can feel alienated living among those who do not share our commitments and customs, despite the kindnesses of outsiders like King Artaxerxes and his wife.
Today is the Memorial of the Guardian Angels. The Church devotes this day to honour our Guardian Angels. Though we do not see them they are doing a lot for us each day, protecting us from all dangers and harm.
God has given His angels charge over us to guard us in all our ways.
These words should fill us with respect, inspire devotion and instill confidence; respect for the presence of angels, devotion because of their loving service, and confidence because of their protection. And so the angels are here; they are at our side, they are with us, present on our behalf. They are here to protect us and to serve us. But even if it is God who has given them this charge, we must nonetheless be grateful to them for the great love with which they obey and come to help us in our great need. So let us be devoted and grateful to such great protectors; let us return their love and honour them as much as we can and should.
The guardian angel prayer is a prayer that reminds us they work these heavenly hosts are doing for us every day. Here goes the prayer
Angel of God
My guardian dear
To Whom His love
Commits Ever this day
Be at my side
To light and guard
To rule and guide. Amen
It is a prayer that honours the angels that God has sent to be with us and to protect us.
Jesus presents us with another parable in the gospel of today. He proposes that the adults come as children – humble, open, and innocent. It is that very humility that will allow for our rewards and rejoicing. Another message beyond we adults embracing a more childlike relationship is the directive to take care of children in the name of Jesus.
We should then, brothers and sisters show our affection for the angels, for one day they will be our co-heirs just as here below they are our guardians and trustees appointed and set over us by the Father. We are God's children although it does not seem so, because we are still but small children under guardians and trustees, and for the present little better than slaves.
Even though we are children and have a long, a very long and dangerous way to go, with such protectors what have we to fear? They who keep us in all our ways cannot be overpowered or led astray, much less lead us astray. They are loyal, prudent, powerful. Why then are we afraid? We have only to follow them, stay close to them, and we shall dwell under the protection of God's heaven.
Let Us Pray: Let Us Pray: Lord Jesus, give me grace to honour you always as I do your will. May your angels be on guard over me always.