GOD IS IN CHRIST RECONCILING THE WORLD TO HIMSELF(Deuteronomy 34:1-12/Psalm 66:1-3,5,16-17/Matthew 18:15-20)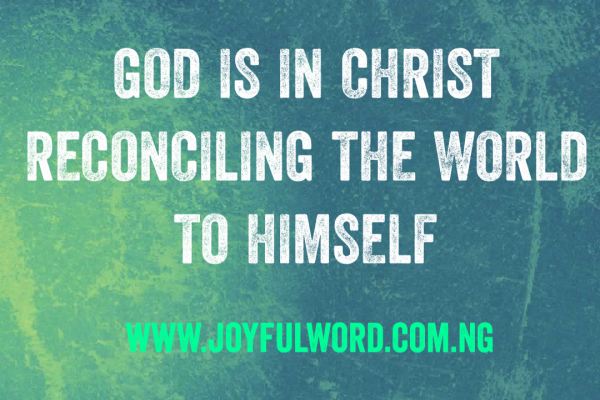 GOD IS IN CHRIST RECONCILING THE WORLD TO HIMSELF
(Wednesday, August 14, 2019 The Memorial of St. Maximilian Kolbe, Priest, Martyr)
For 40 years, Moses led his people away from attacks by the Egyptians and through every sort of natural disaster to be found in the desert, all the while, trying to keep them in a right relationship with their God. Moses was more than old and he must have been totally exhausted by the end of the journey.
Though Moses did not set foot into the promised land, God rewarded him for his steady allegiance and trust by taking him to the top of Mount Nebo to show him the beautiful land that had been promised to his ancestors. What a relief it would have been to know that he had succeeded in bringing God's chosen people to the culmination of their journey; his job was done. But the fact remains that Moses an excellent and patient leader who directed his people according the Lord's instruction even the people provoked him beyond his elastic limit. Moses proved himself a trustworthy leader who stood firm the when the challenges were much.
The entire lifestyle of Moses ought to be a practical lesson for all leaders both religious and political. Those of us who are been given leadership responsibilities, how do we display and discharge such functions? How do handle people's feelings, emotions and reactions? How do we give listening ears to our subjects and those who have nobody to speak for them? Do we serve the people selflessly like the great leader Moses or do we seek only for our personal interests and comfort against the common good? Moses stands to be a reference point to all leaders of the 21st century in every capacity. In the big questions of life – we need the advice, support, correction, love of others. There are times we need the opinion of others.
This can help us if we wander into bad companionship, the wrong job, the wrong course, the wrong marriage. In small and big things, we are not always right. We have social responsibilities in family and our community. Jesus is saying today that we have a responsibility for each other, for the common good. Often we need to ask for guidance from God. God wants the best for each of us. We can help each other to goodness, we can support each other, correct each other, and help each other on our way to God.
This takes us to the gospel of today that speaks about fraternal correction (Mt 18:15-18) and of prayer in common (Mt 18:19-20). The key word in this gospel is "to forgive". The accent is on reconciliation. In order that there may be reconciliation which will allow the little ones to return, it is important to know how to dialogue and to forgive, because the foundation of fraternity is the gratuitous love of God. It is only in this way that the community will be a sign of the Kingdom. It is not easy to forgive.
There is a certain grief which continues to strike the heart as with a hammer. There are those who say, "I forgive, but I do not forget!" There is resentment, tensions, clashes, diverse opinions, and offenses, provocations which render pardon and reconciliation difficult. The virtue of forgiveness is what we need to be praying for always in season and out of season because practically speaking, it is not an easy virtue but with the grace of God, we can.
Finally, St. Maximilian Kolbe, whose memorial we celebrate today, is an example of such a real leader, a true servant in God's Kingdom like Moses in the first reading of today. Even before his death at the hands of the Nazis, Kolbe lived a life of heroic virtue as the superior of a large Franciscan mission of evangelization and publication in Northern Poland. Kolbe's passionate love of Christ and the Blessed Mother was brought to perfection in his terrible death of starvation, beating and finally chemical injection on the Vigil of the Assumption – that great feast of Mary that fulfils the promise of the Resurrection for those who live "in Christ."
Kolbe's death was a martyrdom not only because he was arrested, imprisoned and tortured as an active leader of the Catholic Faith in Poland, but because he volunteered his life so that a man with a family could be spared an arbitrary decimation by the Nazi guards in retaliation for an escape by another prisoner. Saint John Paul II held Kolbe up for our attention and veneration as one who genuinely understood and accepted the cost of faith leadership in the modern world.
Let Us Pray: Lord Jesus Christ, give me the grace to lay down my life for the good of others so that I will be remembered for the good things I have done when am gone. Amen.