I AM ALWAYS WITH YOU TILL THE END OF TIME SAYS THE LORD(Acts 20:28-38/Psalm 68:29-30,33-36/John 17:11-19)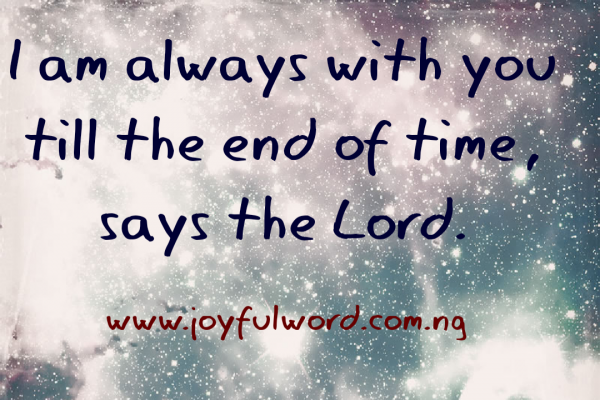 I AM ALWAYS WITH YOU TILL THE END OF TIME, SAYS THE LORD
(Wednesday, June 5, 2019 The Memorial of Saint Boniface, Martyr) In our first reading today, the end of a farewell speech Paul directs to the elders of Ephesus, he warms them about those would try to divide his community. We, too, need to be cognizant so that our words and our actions would be that which will build the Christian community and not the one that would scatter it.
Paul reminds the elders—whom he also calls "overseers" of the main point of his preaching, namely that Jesus Christ redeemed the Church by his own blood (Acts 20:28). He reminds them further of their grave responsibility for God's flock, entrusted to them not by Paul but by the Holy Spirit. And he warns them of the danger that will come from those who "pervert the truth to draw the disciples away after themselves" (Acts 20:30).
In our time, as in every age of the Church, terrible things happen when those with responsibility for the flock forget who is the true master of the flock, the true shepherd, and the price he paid for the flock's salvation. The Church suffers terribly still when false teachers divide the Church. So Paul's words remain timely, and they are addressed to us, whether we hold the office of elder—presbyter—or are teachers of the young. May we always be as vigilant, hardworking, self-sacrificing, and faithful to the Gospel as Paul and his co-workers were. In the Gospel reading, Jesus asks his Father to watch over the apostles and his followers. The apostles must have been fearful imagining a world without the Lord Jesus. Jesus' teaching was not received by the Pharisees and the leaders of the Jewish people: neither would they listen to his followers.
Jesus reminds the Apostles that, like Jesus Himself, though they are in the world, they are not "of the world": their values and priorities are different, their actions should also be different. It takes a lot of courage to be in this world and not be "of this world": it needs a lot of help from the all-powerful God. As we wait and prepare for the coming of the Holy Spirit, let us always ask God to strengthen us with the Holy Spirit so that we will be bold and courageous in preaching the Good News through our lives, words and actions in season and out of season.
Let Us Pray: Lord Jesus, give me grace to remain steadfast and to keep working for you without fear until the end of time. Amen