IF YOU O LORD SHOULD MARK OUR GUILT, LORD WHO WOULD SURVIVE(Jonah 3:1-10/Psalm 130:1-4,7-8/Luke 10:38-42)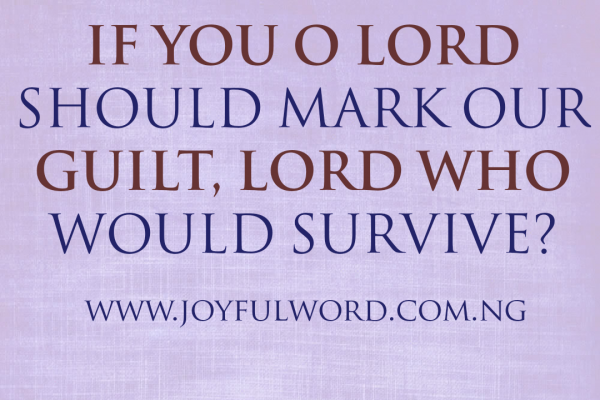 IF YOU O LORD SHOULD MARK OUR GUILT, WHO WILL SURVIVE?
(TUESDAY, OCTOBER 08, 2019)

The city of Nineveh faced sure destruction until its inhabitants repented and reoriented their lives away from evil and toward God. Psalm 130 similarly encourages orienting ourselves toward God: "For with the Lord is kindness and with Him is plenteous redemption". The Psalmist continues by saying "If you O Lord should mark our guilt, Lord who will survive? But with You is found forgiveness
The gospel of today tells the story of Mary and Martha.
This gospel reading seems to separate itself from the first reading and that of the Psalm in the sense that while the others seem to contrast good and evil, neither Mary nor Martha seems to be doing anything remotely evil. In fact, it seems that Martha, perhaps, is the more virtuous in her rush to serve Jesus upon his arrival. Jesus, however, applauds Mary's decision instead. Why? Perhaps it is because Mary's decision to sit at Jesus' feet is precisely the orientation God asks of us. Saint Ignatius discovered this very lesson upon His own conversation away from vanity and the pleasures of the world and toward God.

This story of Mary and Martha provides an interesting contrast between the choices made by these two women. Both of the sisters surely love Jesus but demonstrate it in different ways. Mary expresses her love by taking advantage of the opportunity to be close to Jesus and hear His every word. Martha expresses her love in a much more active way, tending to the practical needs of Jesus by going out to greet Him and assuming the burden of preparing a meal.

When Martha asks Jesus to tell Mary to help her, He tells her that Mary has made the better choice. It may seem somewhat puzzling that Jesus does not support Martha's request for Mary's assistance. We tend to put great value on fairness and Jesus' response does not seem fair. But, it is not about fairness; it is about taking advantage of the time they have with Jesus to hear His message and to just be with him.
In our society, busyness and accomplishments are rewarded to the extent that we cannot sit in silence or relax. We often over-extend ourselves to the detriment of our relationships with friends, family and God. Most often we make excuses such as, "I have so much I have to get done" or "There is no one else to do this." The busyness has become so much a part of our lives that it even creeps into our spiritual life. We go to church, say our prayers, help with parish activities and volunteer to meet the needs of the community.
These are all good things, but there needs to be a time when we can "make the better choice," times when we can sit in silence and listen to the individual message that Jesus wants to share with each of us.
Jesus is not saying that Mary is the better person, but just for that time, she has made the better choice. In each of us, there needs to be a balance between the practical activities of Martha and the quiet listening of Mary. We need to take the time to listen to Jesus telling each of us how much He loves us. It is the awareness and acceptance of His love that will enable us to share that love while performing all of the activities.
How can we, like Mary, fix our gaze on Jesus ever more intently and sit at His feet despite life's distractions? How might simply being with Jesus – as a starting point – provide us with a right orientation in our lives and in the tasks before us? Just as an orchestra must follow a conductor, so too may we each and all choose the "better part" that Mary chose.
Let Us Pray: Lord Jesus, give me the grace to repent of my sins and return back to you so that I will be saved by your mercy. Amen.