NEVER LOSE HOPE, BUT REMEMBER THE WONDERS THE LORD HAS DONE(Genesis 44:18-21,23-29;45:1-5/Psalm 105:16-21/Matthew 10:7-15)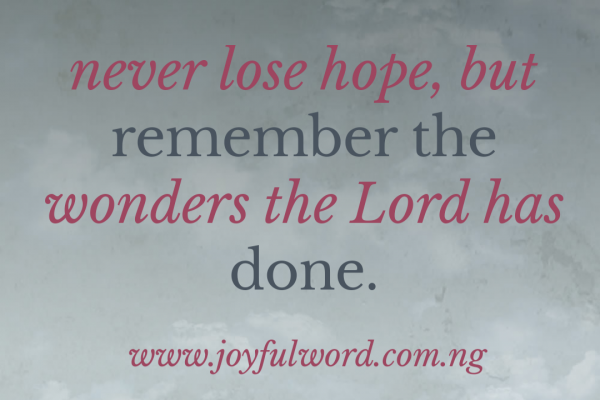 NEVER LOSE HOPE BUT REMEMBER THE WONDERS THE LORD HAS DONE
(Thursday, July 11, 2019 The memorial of St. Benedict, Abbot)
In addition to so many reflections we have heard in the past about the story of Joseph and his brothers, I would like us to see in the whole story that whatever happens to us in life be it good or bad is meant for a purpose. In most cases, God permits a situation to be so that He can bring out something positive from it at the end especially when such a situation is an unfavorable one.
In as much as Joseph's brothers committed what was evil against God and humanity, God was silent when they were executing their evil plan to do away with Joseph without knowing that their evil intention will turn out to be a blessing that will favour them and others. Joseph at the time of execution of this plan never knew the plan God has for him in future neither his brothers but today's reading revealed the hidden plan embedded in the whole story. Joseph himself in this reading testified to this.
Finally, after all his questioning and testing, Joseph can no longer contain his emotions. Sending everyone but his brothers from the room he finally breaks down and tells them "I am your brother Joseph, whom you once sold into Egypt. But now do not be distressed and do not reproach yourselves for having sold me here.
It was really for the sake of saving lives that God sent me here ahead of you." The message that comes through this long narrative is one of heroic forgiveness on the part of Joseph who was wronged by his own siblings and the beneficent providence of God allowing this tragedy to bring about the lifesaving victory, not only sparing his father and brothers from starvation but also many others in the world. Dear brothers and sisters, I know that the majority of us are not finding it funny with the situation they are facing today.
Others may not give a full explanation of why their situation remains the way it is even after having tried their possible best to better their condition. Let us not lose hope or see our condition today as the end of the road, who knows what tomorrow will bring. Yes, the situation today may be unbearable but never can tell what tomorrow may come up with. It is our earnest prayers that tomorrow will bring smiles on our faces and dry up our tears.
Let Joseph's story be a reference point for us that God has never finished with us. Just imagine a poor boy that was sold out of jealousy and wickedness was crowned the Second-in-command in a foreign land next to Pharaoh. This can only be done by God Let the words of Joseph in this reading be always our watchword "It was really for the sake of saving lives that God sent me here ahead of you."
Let Us Pray: Lord Jesus, give me grace to live a good life and to do your will so that I will gain eternal life. Amen.