THE LORD WILL GUARD US AS A SHEPHERD GUARDS HIS FLOCK(Ezekiel 37:21-28/Jeremiah 31:10-13/John 11:45-57)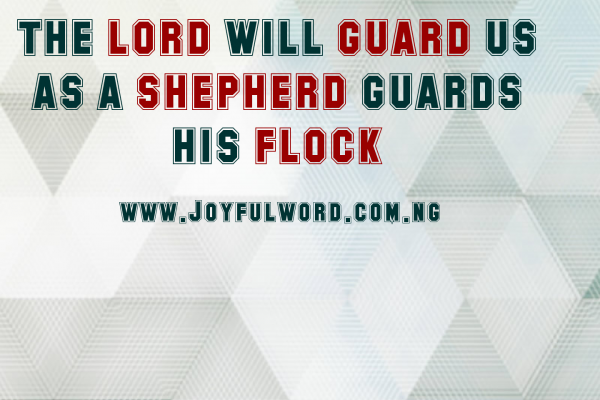 THE LORD WILL GUARD US AS A SHEPHERD GUARDS HIS FLOCK
(Saturday April 13, 2019)
Every arrangement has been concluded for the Passion and Crucifixion of our Lord Jesus Christ. The gospel reading of today is the climax of the Jewish plot to kill Him. The Gospel of today revealed the highest point of superiority complex of the Jewish authorities. As we have pointed out on several occasions of our reflections that Jewish authorities thought that Christ came to take away their position of authority from them. They thought and conceived that Christ's ministry made their position and prestige less relevant in the land. Their intention and fear were laid bare today in the gospel.
They wanted to eliminate Christ because of the fear that everyone will come to believe in Him if He is allowed to continue the way He is going. Here is what they said "Many of the Jews who had come to visit Mary and had seen what Jesus did believe in him, but some of them went to tell the Pharisees what Jesus had done. Then the chief priests and Pharisees called a meeting. 'Here is this man working all these signs' they said 'and what action are we taking? If we let him go on in this way everybody will believe in him, and the Romans will come and destroy the Holy Place and our nation."
This statements of the Jewish authorities are callous, wicked and filled with jealousy and hatred. Yes, they acknowledged that He was performing signs and wonders and still was afraid that the whole nation will come to believe in Him. What crimes did He commit by performing these signs? Was it not for their own good and for their own people that Christ was doing all these? Was it not a blessing that God sent His Only Son to come and dwell in their midst which He could have as well granted to another nation in the world? What kind of criminal activity could be identified in all the miracles that Christ performed? The four gospels recorded these signs and wonders as the healing of the sick, raising the dead, casting out demons, welcoming sinners in an extraordinary way so as to convert them, feeding of the multitude and so on, showing love and concern to those unjustly condemned by the Jewish authorities. How could the Jewish authorities attribute these signs, wonders, and good works of Christ as criminal acts that warrant His immediate arrest and condemnation? It was in the midst of this plot that Caiaphas the Jewish high priest of that year unknowingly made a prophetic statement that Christ is to die for the entire nation which was why He came to give His life as a ransom for many not only for the Jewish nation.
Here is the prophetic word "Caiaphas, the high priest that year, said, 'You do not seem to have grasped the situation at all; you fail to see that it is better for one man to die for the people than for the whole nation to be destroyed" In fact the statement of Caiaphas was the reason for the Passion, Crucifixion and Death of Christ.
Though they see Him as an impostor and criminal and then gave their verdict that He is to die, but that impostor and criminal is now highly revered as the Saviour of the whole world not only to the Jewish nation.
As we are entering the Holy week, let us ask the good Lord who has been with us all this while in our Lenten journey to see us through until we come to the end of this Holy season. Let our mediation and prayer point this Holy week be, Lord, make me a changed person and let my Lenten observances not be in vain.
Let Us Pray: Lord Jesus, help me to believe in you and to do my best to stay focused as you did until you triumphed at Calvary. Amen.