YOUR WORD IS A LAMP FOR OUR STEPS (Acts 12:24-13:5/Psalm 67:2-3,5-6,8/John 12:44-50)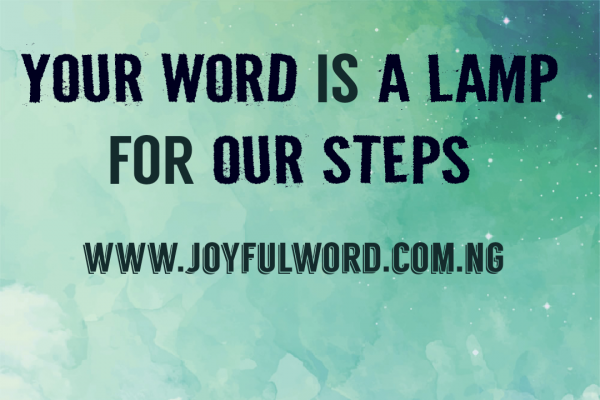 YOUR WORD LORD IS A LAMP FOR OUR STEPS
(Wednesday, May 15, 2019)
Jesus said in today's Gospel that He did not come to condemn but anyone who does not accept his words will be judged by his word (John 12:47-48). Jesus continues by saying "I came into the world as light so that everyone who believes in me might not remain in darkness." (John 12:46). Believing in Christ is equivalent to believing in the One who sent Him as He pointed out at the beginning of this gospel.
In the first reading, the Holy Spirit directed that Barnabas and Saul be set apart for God's work (Acts 13:2) and then they were sent forth from Antioch by the Holy Spirit (Acts 13:4) and proclaimed the word of God (Acts 13:5). Saul and Barnabas were able to embark on the mission set out for them by the Holy Spirit because they made themselves available for the work of God. Now that we have been made new creatures through the Resurrection of Our Lord Jesus Christ, how do we make ourselves available for the work of God?
We can make ourselves available by first of all allow the word of God to find a place in us, make this word part and parcel of our lives. It is through this that we will be able to bring this word of God to others. Barnabas and Saul were open to receive the word of God; we pray that we too may be open to receive God's word to us. Again Jesus in different places in the gospel of John stresses the importance of responding to the word of God. He says "he who hears my word and believes Him who sent me, has eternal life…" (John 5:24). If you continue in my word, you are truly my disciples (John 8:31).
If anyone keeps my word, he will never see death (John 8:51). If a man loves me, he will keep my word, and my Father will love him, and we will come to him and make our home with him. (John 14:23). If you abide in me, and my words abide in you, ask whatever you will, and it shall be done for you. (John 15:7). Sometimes the word of God can be difficult and challenging as St. Paul pointed out saying "...For the word of the cross is folly to those who are perishing, but to us who are being saved, it is the power of God. (1 Cor 1:18).
If the word ever seems folly could it be because we have forgotten that, one does not live by bread alone, but by every word that comes forth from the mouth of God? (Matt 4:4). Indeed, the word of God guides us if we truly believe in it as the Psalmist says "Your word is a lamp for my steps and a light for my path." (Ps 119:105). The word of God heals if we make it our daily heritage as in the Book of wisdom we read "Neither herb nor application cured them, but your all-healing word, O Lord. (Wis 16:12). Therefore, let the word of Christ dwell in us richly. (Col 3:16).
Let Us Pray: Lord Jesus, give me the grace to follow you and to work for you to win souls for you. Amen.