A HUMBLE CONTRITE HEART O LORD YOU WILL NOT SPURN (Genesis 3: 9-12/Psalm 90:2-6,12-13/Mark 8:1-10)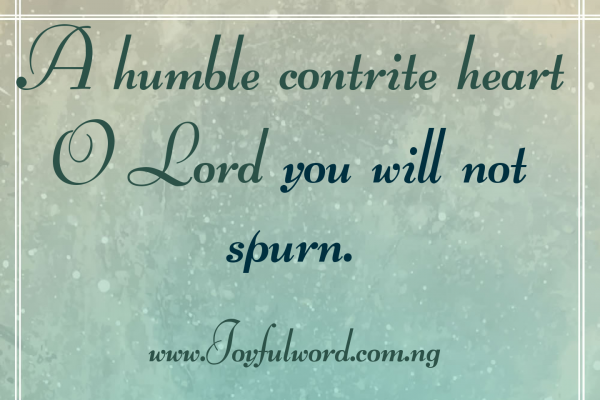 A HUMBLE CONTRITE HEART O LORD YOU WILL NOT SPURN
(Homily for Saturday 16 February, 2019)
Acknowledgement of sin is one of the criteria that shows how sorrowful one is. Acknowledgement goes with the virtue of humility. It is only a humble person who can accept that he/she has sinned. A proud person has no time to accept his/her mistakes.
Again, acknowledgement goes with asking for forgiveness. This implies that when one finds it very difficult to acknowledge his/her fault, one cannot as well make a move to ask for forgiveness. Just look at the prayer of David when he sinned against God and man "Have mercy on me O God in your kindness. In your compassion blot out my offence. O wash me more and more from my guilt and cleanse me from my sin. My offences truly I know them; my sin is always before me. Against you alone have I sinned; what is evil in your sight I have done" (Psalm 51:1-4).
David continues and says "For in sacrifice you take no delight. A burnt offering from me you would refuse, my sacrifice, a contrite spirit. A humbled contrite heart O Lord you will not spurn" (Psalm 51:16-17). It was after this humble prayer that God repented from destroying David instantly and then pardoned his offences.
Now coming to the first reading today, we notice a sharp contrast to all we have said here. Our first parents Adam and Eve no doubt lacked the virtue of humility, that which could have led them to acknowledge what they have done. There is a high level of shifting blames here in the reading instead of acknowledgement. Let us go back to that reading and see this clearly. When God called Adam and asked him where are you? Instead of Adam responding Lord I was afraid because I have sinned against You, have mercy on me and my wife. The reverse was the case. He responded "I was afraid because I was naked" It was this very response that made God ask, who told you that you were naked? Have you been eating of the tree I forbade you to eat?
The second mistake in his response; instead of responding Yes Lord, I have done that, please do forgive me. Adam's response was "It was the woman you put here with me, she gave me the fruit and I ate. This was not the answer God was expecting from Adam. Simple yes or no is what God wants. Here also, Adam is indirectly blaming God for giving him, Eve.
Let us not forget that it was the same Adam who was happy when he first saw Eve as a helper being created from him. Now because he has sinned instead of accepting his mistake is now indicting God indirectly of giving him, Eve.
Then coming to Eve, God still asked "what is this you have done? Instead of responding "O God I am sorry, forgive me, she immediately shifted the blame to the serpent. Yes, it is true that the serpent led her astray but had it been that she acknowledged her fault, first of all, the story would have changed. It was this shifting blames that made God to be angry with them. Indeed, our God is a merciful God who forgives easily anytime we sin against Him and humbly ask for pardon and mercy. Believe you me, had it been that Adam and Eve acknowledged their faults there in the garden without this shifting blames, they would not have been chased out from the garden and God would have forgiven them instantly.
In fact, many of us are guilty of this shifting of blames especially when we sin. How many of us acknowledge our mistakes and say Lord forgive me for I have sinned against you without attributing our mistakes and sins to something else. You hear often some expression like; I did it because…, I did it because many are doing it? I did it, after all our society is so corrupt and besides, nobody is perfect! Instead of accepting our faults, many will begin to give excuses for what led them to do what they have done, which is not necessary most at times.
Nothing pleases God when someone offends Him and turns to Him and ask for forgiveness. As we pointed out at the beginning of this reflection, it takes humility for us to acknowledge our faults and sins and it will save us a lot of stress. Let us learn today how to always say "O Lord I am very sorry for having sinned against you, have mercy on me" It neither takes something from us nor makes us less human.
Let Us Pray: Lord Jesus, in humility I acknowledge my sins before you and I ask for your forgiveness. May your compassionate heart help me to become holy again. Amen.